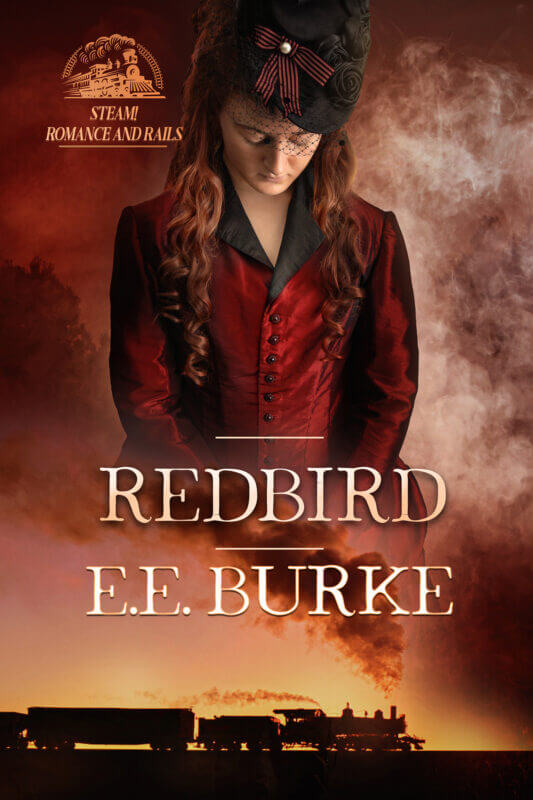 They have nothing in common except a desire for peace...and each other.
In August, 1870, the Katy railroad arrives in Indian Territory to an unwelcome greeting from the people who live there. During the tense standoff, which stalls construction and ignites tempers, a peaceful resolution appears impossible. So does a love that springs up between a wealthy railroad heiress and the desperate Cherokee outlaw who kidnaps her.
"E.E. Burke understands the heart of romance...and delivers it."
Maggie Shayne, New York Times bestselling author
Order Now!
About the Book
Railroad heiress Kate Parsons has spent a lifetime trying to win her father's respect. Her heart isn't in the marriage he demands for her, but she is eager to help him resolve a land dispute between his railroad and the Cherokee Nation.
Jake Colston–also known as Wa-ya, the Wolf–has the blood of warriors running through his veins, but he isn't eager to wage a war he knows his people can't win. Rather than fight the smoking dragon, he devises a clever strategy to stop it. When Kate stumbles onto his scheme, a split-second decision to save her life hurls his plans into chaos and creates havoc in his heart.
Is the woman he nicknames Redbird the incarnation of a long-ago vision? Or does she portend the end of his dreams?
Bestselling author E.E. Burke weaves a captivating, cross-cultural love story into a tapestry of historical events surrounding a tense standoff between the Cherokee Nation and the Katy Railroad. Originally released as a novella under the title Kate's Outlaw, this new edition has been expanded into a novel with exciting new scenes and renamed after the Native American legend that inspired it. Scroll up and start reading today.
Endorsements
"Gripping, realistic western writing at its best! E. E. Burke is an exceptional storyteller!" Rosanne Bittner, USA TODAY bestselling author
– Rosanne Bittner
"E.E. Burke understands the heart of romance...and delivers it." Maggie Shayne, New York Times bestselling author
– Maggie Shayne
Other Books in "Steam! Romance and Rails"
Disclosure of Material Connection: Some of the links in the page above are "affiliate links." This means if you click on the link and purchase the item, I will receive an affiliate commission. I am disclosing this in accordance with the Federal Trade Commission's
16 CFR, Part 255
: "Guides Concerning the Use of Endorsements and Testimonials in Advertising."