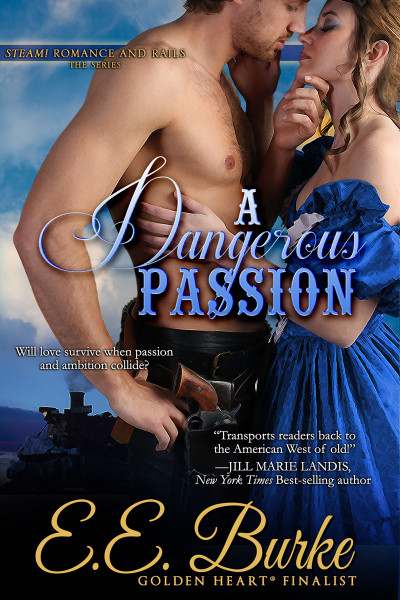 People are disappearing along the railroad line. Will Lucy be next?
A dime novel author sets out to expose a high-ranking railroad official as a fraud, possibly a murderer. At the same time, he decides to woo her in order to distract her from things he'd rather not have come to light. Soon, the two are embroiled in a deadly mystery…and ensnared by a dangerous passion.
About the Book
Can a hero lurk inside the heart of a villain?
Life in a small New England village is too quiet, too ordinary for a free spirit like Lucy Forbes. When her father lands a job out West, she packs her books and her dreams and eagerly sets off to pursue the kind of grand adventures she longs to experience and write about. Yet the moment she steps off the train, she's thrust into the gritty reality of an untamed frontier""and into the arms of a scoundrel.
Henry Stevens, the ruthless railroad executive her father has been sent to investigate, is as passionate as he is ambitious. Brave and charming, as well as clever, and possessed of a sharp wit. He is, in fact, the most fascinating man Lucy has ever met. However, his opponents are vanishing, and strangers are shooting at him. Fearing for her father's life, Lucy resolves to unmask the secretive Mr. Stevens and expose a villain. What she doesn't expect to find is a hero.
A Dangerous Passion is part of the series Steam! Romance and Rails, which follows the lives and loves of men and women caught up in the relentless push to build America's first railroads. Recommended for fans of the hit TV series "Hell On Wheels.
Endorsements
"This is the first book I have read by E.E. Burke, and I was so impressed with A Dangerous Passion that I am currently ensnared by her previous titles and eagerly wait for anything this very talented author writes." ~ Kimberly Rocha/Book Obsessed Chicks
"Strong, realistic, well-defined characters and meticulous research transports readers back to the American West of old." ~ Jill Marie Landis, New York Times bestselling author
Other Books in "Steam! Romance and Rails"
Disclosure of Material Connection: Some of the links in the page above are "affiliate links." This means if you click on the link and purchase the item, I will receive an affiliate commission. I am disclosing this in accordance with the Federal Trade Commission's
16 CFR, Part 255
: "Guides Concerning the Use of Endorsements and Testimonials in Advertising."