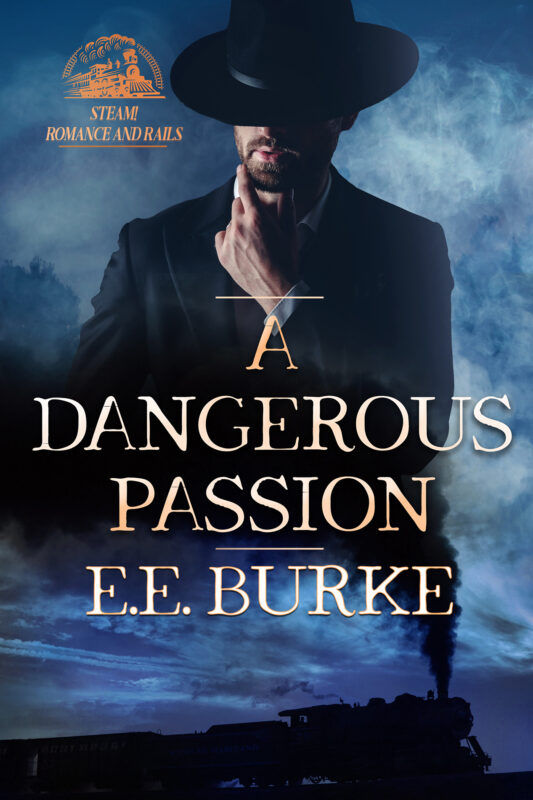 She writes about villains and heroes. Then meets a man who might be both.
Inspired by a true story, this fiery Western romance takes readers to the southwestern frontier in the 1870s, a time of triumphs and travails for the Katy Railroad and the fascinating men who built it during America's Age of Steam.
About the Book
Lucy Forbes heads West to help her father with a difficult assignment—one that pits him against a railroad executive reputed to be as treacherous as he is charming. She anticipates having adventure, even dangerous thrills, to add to the stories she writes. What she doesn't expect is how quickly she gets caught up in a deadly mystery.
Henry Stevens is more than ambitious. He's an intense, driven man, guided by principles forged during an impoverished childhood. His carefully laid plan for success takes a sharp turn when an investigation is launched against him. Suddenly, he is fighting for his job and his life. It's not the ideal time to become embroiled in a tumultuous, passionate relationship, especially with an inquisitive writer, who pens tales about heroism and high ideals. Astonishingly, she expects him to live up to them. Even more surprising, he wants to. 
Read all four books in the 10th Anniversary Special Edition of the series Steam! Romance and Rails. With new content, updates and research notes.
Endorsements
"This is the first book I have read by E.E. Burke, and I was so impressed with A Dangerous Passion that I am currently ensnared by her previous titles and eagerly wait for anything this very talented author writes." ~ Kimberly Rocha/Book Obsessed Chicks
"Strong, realistic, well-defined characters and meticulous research transports readers back to the American West of old." ~ Jill Marie Landis, New York Times bestselling author
Other Books in "Steam! Romance and Rails"
Disclosure of Material Connection: Some of the links in the page above are "affiliate links." This means if you click on the link and purchase the item, I will receive an affiliate commission. I am disclosing this in accordance with the Federal Trade Commission's
16 CFR, Part 255
: "Guides Concerning the Use of Endorsements and Testimonials in Advertising."