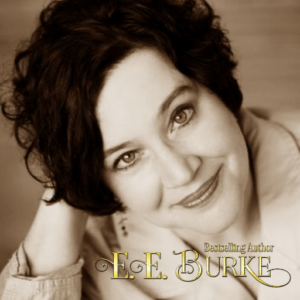 E.E. Burke is a bestselling author of historical and contemporary romances that combine her unique blend of wit and warmth. Her latest series, The New Adventures, features a re-imagining of two beloved American characters in Tom Sawyer Returns and Taming Huck Finn.
Other series include Steam! Romance and Rails, which follows the lives of dangerous men and daring women caught up in a cutthroat competition as the railroads advance across the frontier. Her novella, Victoria, Bride of Kansas, part of the multi-author American Mail-Order Brides series, is a Kindle Top 100 Bestseller and a semifinalist in the 2016 Kindle Best Book Awards.
E.E. has earned accolades in regional and national contests, including the RWA's prestigious Golden Heart®. Over the years, she's been a disc jockey, a journalist and an advertising executive, before finally getting around to living the dream–writing stories readers can get lost in.
Follow E.E. Burke: