My bestselling series is better than ever.
Over the past several months, I've been revising and updating my bestselling series, Steam! Romance and Rails. After ten years of practicing my craft, I wanted to apply all that I've learned to bring these books closer to my original vision for this series. All four books have been updated with new content and research notes. The second book, originally released as a novella, has been expanded into a novel and released under the title of the Cherokee legend that inspired it. If you've never read this series, I encourage you to give it a try. It combines my love of Western adventure, romance and suspense and my fascination with railroad history.
Start the series with Her Bodyguard, a story about an unredeemable man and an unstoppable woman whose paths cross in the midst of a cut-throat railroad construction race across southeastern Kansas in 1870. It's a thrilling ride with unexpected twists and turns right up to the end. Buck O'Connor remains one of my all-time favorite dark heroes, and I hear the same from many of my readers. In addition, the plot line is take straight out of the pages of history from a little-known true event, which set into motion changes that shaped our nation for decades.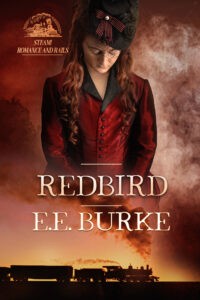 Redbird was originally released as a short novella under the title, Kate's Outlaw. I've added exciting new scenes, updated the story line, and renamed it after the Cherokee legend that inspired it. This cross-cultural love story is set against the historical backdrop of a bitter battle between the Katy Railroad and the Cherokee Nation. Through this story, I strive to a perspective that often gets lost in our glorification of the Western expansion. Its central theme is hope–for peace, understanding, respect, and. ultimately, a sense of unity despite our differences.
At the end of Redbird, we leave Indian Territory and return to Kansas, where the Katy Railroad has a new headquarters in Parsons, and a new general manager. Henry Stevens is charismatic, courageous, obsessively ambitious. Could he also be a murderer? A young woman, with more to lose than her heart, is determined to find out.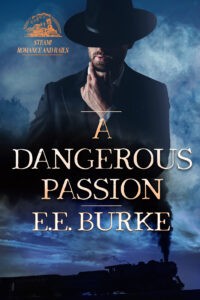 I do a lot of research when planning a series. This one, in particular, follows the historical journey of the Katy Railroad as the underpinning for both settings and plot lines.
In the case of A Dangerous Passion, the character of Henry Stevens was inspired by bigger-than-life stories about the real "Colonel Stevens," the man who led the Katy Railroad to victory.
One of the storylines in this book is based on newspaper accounts of grisly murders that took place in southeastern Kansas in the mid-1870s, which some editorials blamed on the railroad. The real killers, one of the first documented cases of serial murders in the U.S., were never found.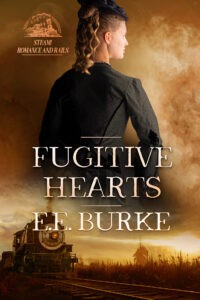 In Fugitive Hearts, two runaways take a wild ride through Indian Territory where outlaws and train robbers plague the new Katy Railway line.
A hotel owner confesses to accidentally killing her husband, which sets off a scandal and an investigation. When the widow sets out to find her missing foster child, what follows is a passionate, suspenseful game of cat-and-mouse between Claire and the sheriff, who is determined to uncover the truth. When he does, it will challenge his preconceived notions about justice—and love.
I'm currently writing Book Five in the series, Lawless Hearts, which will be released in early 2022. Get a sneak peek at the cover and read the blurb here.
Stay tuned for more blog posts about each book and details about historical events and characters that brought this series to life.
Steam! Series Giveaway
Would you like to win all four books in the series? Enter the Steam Series Giveaway. below  The drawing will take place July 19.
Steam On!
E.E. Burke