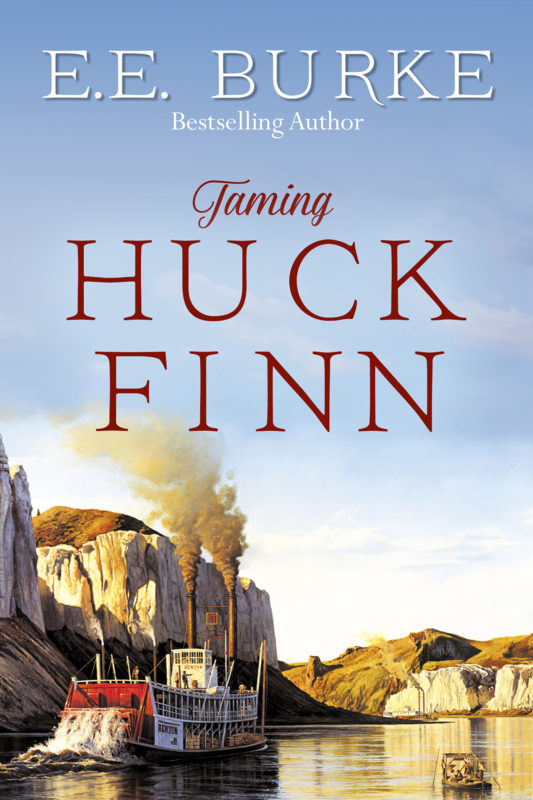 The most dangerous journey leads to the heart.
Missouri River, 1870 – On a vast, untamable river separating civilized society from the wild frontier, steamboat pilot Huck Finn lives life on his own terms, avoiding any entanglements that might tie him down. Until he's named guardian of an eight-year-old orphan.
At first, the chronic wanderer looks for a way out. But when a waspish-tongued spinster makes a questionable claim on the child, Huck's sympathetic heart takes control of his better judgment. A snap decision alters his course, leading them all on a wild trip upriver fraught with conflict, danger, betrayal, and—to Huck's surprise—temptation.
Will this adventure cost Huck his life? Or worse, his freedom?
Inspired by America's favorite storyteller, bestselling author E.E. Burke brings her vision to a new historical adventure with beloved characters borrowed from Mark Twain's classics. If you enjoy a rollicking romance between opposites, set against a breath-taking landscape in the rip-roaring era of the American frontier, don't miss Taming Huck Finn.
Order Now!
About the Book
Featured by the Mark Twain House & Museum
A word from the author
Taming Huck Finn picks up Huck's story fifteen years after he "set out for the Territory" at the end of Twain's original novel, The Adventures of Huckleberry Finn. As in Mr. Twain's stories, the river is a primary character; only in this book, it is the Missouri River. At the time of this novel, the Muddy Mo constituted a natural border between civilization and the Western frontier.
I humbly offer this historical tale with profound gratitude to the man who inspired it. Mark Twain, more than any other author, influenced my love for the written word and my belief in the power of a well-told story.
Special thanks to Missouri artist Gary R. Lucy for allowing me to use his beautiful period paintings as the perfect setting for my novel.
I hope you enjoy this new adventure.
Respectfully,
E.E. Burke
Endorsements
Featured in the February 15 online event, Romancing Mark Twain, sponsored by the Mark Twain House & Museum in Hartford, CT.
Other Books in "The New Adventures"
Disclosure of Material Connection: Some of the links in the page above are "affiliate links." This means if you click on the link and purchase the item, I will receive an affiliate commission. I am disclosing this in accordance with the Federal Trade Commission's
16 CFR, Part 255
: "Guides Concerning the Use of Endorsements and Testimonials in Advertising."