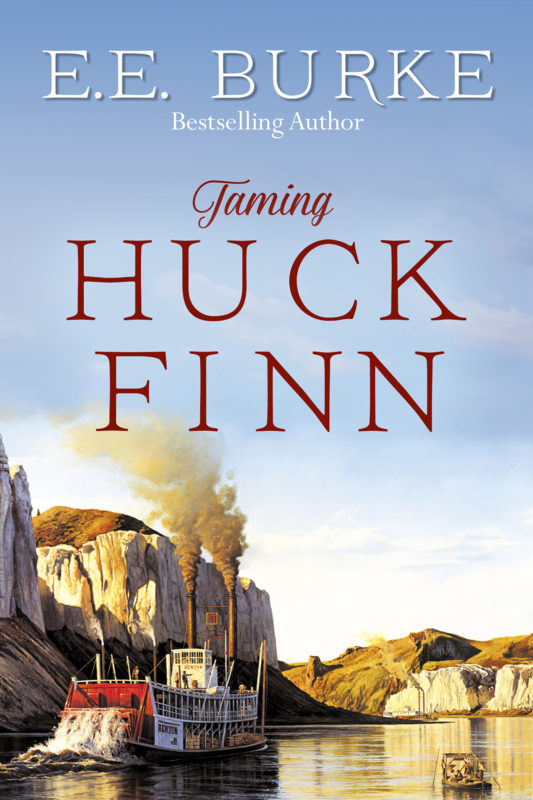 His greatest adventure is about to catch up with him.
Steamboat pilot Huck Finn lives life on his terms and steers clear of messy entanglements that might tie him down—until he takes charge of an orphaned boy that needs rescuing.
Starched and proper, Miss Hallie MacBride is determined to atone for past sins by raising her estranged sister's son. She doesn't expect footloose Mr. Finn to challenge her, much less up and run off with her nephew.
On a wild journey fraught with danger, a freedom-loving adventurer and an avowed spinster battle over the destiny of a young boy, who is doing his level best to convince them they belong together.
Embark on an unforgettable adventure from award-winning author E.E. Burke in a novel inspired by one of America's most beloved characters.
Order Now!
About the Book
A word from the author:
From an early age, I've been afflicted with a fondness for two precocious Missouri-bred boys. These characters, which were spun from the memory and imagination of the great American author Mark Twain, always seemed so real to me. I could place them in history, hear them speak, and see them in my mind as well as I could see my own face in a mirror.
As I read (and reread) their adventures, I hated to bid them farewell at a point where their stories were just taking off. I wanted to know what happened to them when they grew up. I began to wonder, "what if…?" For an author, pondering that question is a sure sign a book is about to be born. When I began to imagine all the possibilities, it was Huck himself who suggested the one that to me made the most sense.
Taming Huck Finn picks up Huck's story fifteen years after he "set out for the Territory" at the end of Twain's original novel, The Adventures of Huckleberry Finn. As in Mr. Twain's stories, the river is a primary character. Only in this book, it is the Missouri River, which at the time this novel is set constituted a natural border between civilization and the Western frontier.
I humbly offer this historical tale with profound gratitude to the man who inspired it. Mark Twain, more than any other author, influenced my love for the written word and my belief in the power of a well-told story.
Special thanks to Missouri artist Gary R. Lucy for allowing me to use his beautiful period paintings as the perfect setting for my novel.
I hope you enjoy this new adventure.
Respectfully,
E.E. Burke
Other Books in "The New Adventures"
Disclosure of Material Connection: Some of the links in the page above are "affiliate links." This means if you click on the link and purchase the item, I will receive an affiliate commission. I am disclosing this in accordance with the Federal Trade Commission's
16 CFR, Part 255
: "Guides Concerning the Use of Endorsements and Testimonials in Advertising."