My bestselling series is better than ever.
The Steam! Romance and Rails series was inspired by my love for Western movies and TV shows that deliver exceptional drama, passion and suspense in authentic historical settings. I'll give a nod to Hell On Wheels as one of those inspirational shows. And you can really see the influence in these new covers for the latest edition of the series. I've tweaked and polished the stories, given them new covers that are closer to my original vision, and expanded the second book into a full-length novel.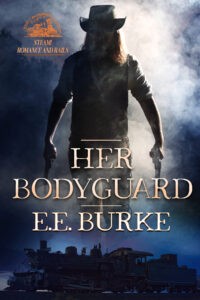 The series begins with Her Bodyguard.  An 1870 railroad race plagued by crooked politics, angry mobs, liars, cheats and killers sets the stage for a story about betrayal, love and redemption.  A wanted man with dark secrets falls in love with the woman who hires him to protect her.  Packed with passion and suspense, it's a thrilling ride with twists and turns right up to the end.  Buck O'Connor is one of my favorite heroes. I think this new cover fits the book and this character perfectly! Her Bodyguard is a BookBub Featured Deal on Aug. 19 and you can pick it up for 99 cents through Aug. 23. Buy it now!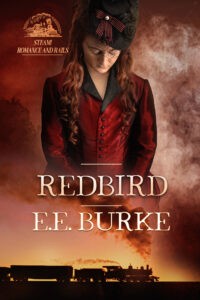 Redbird was originally released as a short novella under the title, Kate's Outlaw. I've expanded the storyline, added new scenes to extend it into a novel, and renamed it after the Cherokee legend that inspired it. This cross-cultural love story is set against the historical backdrop of a bitter battle between the Katy Railroad and the Cherokee Nation. Through this story, I strive to present a perspective that often gets lost in our glorification of Western expansion. Its central theme is hope–for peace, understanding, respect, and, ultimately, a sense of unity despite our differences.
At the end of Redbird, we leave Indian Territory and return to Kansas, where the Katy Railroad has a new headquarters in Parsons, and a new general manager. Henry Stevens is charismatic, courageous and ambitious. Could he also be a murderer? A clever young woman, who has more to lose than her heart, sets out to discover the truth about the fascinating man the loyal railroaders call Chief.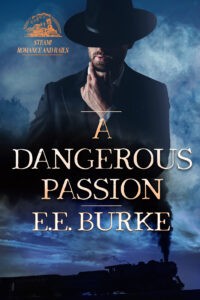 In A Dangerous Passion, the character of Henry Stevens was inspired by bigger-than-life stories about the real "Colonel Stevens," the man who led the Katy Railroad to victory. I do a lot of research when planning a series. This one, in particular, follows the historical journey of the Katy Railroad as the underpinning for both settings and plot lines.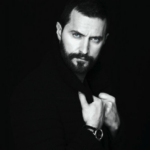 Oh, and this cover! When I first starting working on A Dangerous Passion, I pinned some "inspirational" images to my Pinterest board.
To the left is how I envisioned Henry Stevens might look. The cover model is a dead ringer, right?
No, I didn't pay Richard Armitage to pose for the cover, but if this book ever gets made into a movie, I know who I want to play the lead role!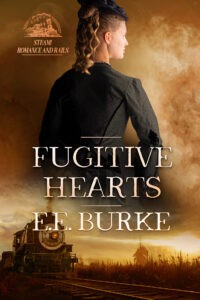 In Fugitive Hearts, two runaways take a wild ride through Indian Territory where outlaws and train robbers plague the new Katy Railway line.
A hotel owner confesses to accidentally killing her husband, which sets off a scandal and an investigation. When the widow sets out to find her missing foster child, what follows is a passionate, suspenseful game of cat-and-mouse between Claire and the sheriff, who is determined to uncover the truth. When he does, it will challenge his preconceived notions about justice—and love.
I'm currently writing Book Five in the series, Lawless Hearts, which will be released in early 2022. Get a sneak peek at the cover and read the blurb here.
Another word about the covers. I owe a special thanks to photographer Matthew Malkiewicz for his inspiring images of the old steam locomotives that grace my book covers. His photography really captures the mood and drama of this series. (You can see more of his amazing work at www.losttracksoftime.com.)
What other authors say about Steam! Romance and Rails
"Gripping, realistic western writing at its best! E.E. Burke is an exceptional storyteller!" ~ Rosanne Bittner, USA Today bestselling author
"I thoroughly enjoy E.E. Burke's historical romances. Her portrayal of strong, realistic, well-defined characters and meticulous research transports readers back to the American West of old."  ~ Jill Marie Landis, New York Times bestselling author
"Pure passion and romance that will steal your breath." ~ Linda Broday, New York Times bestselling author
"E.E. Burke understands the heart of romance…and delivers it!" ~ Maggie Shayne, New York Times bestselling author
Give me your take on this series if you've read it. I'd love to know which hero was your favorite.
Steam On!
E.E. Burke