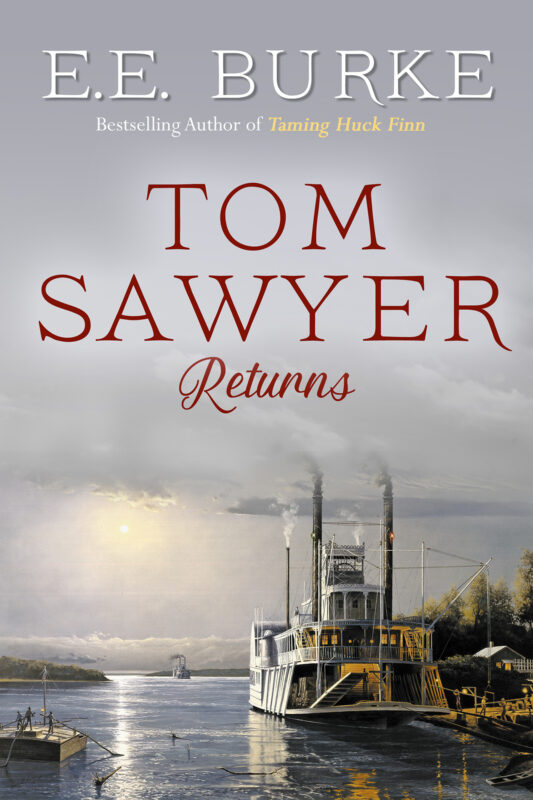 Becky Thatcher would as soon trust a snake as rely on her faithless first beau, Tom Sawyer, whose mysterious reappearance sparks desire, and deadly intrigue. But only together can they find a traitor…before he finds them.
St. Petersburg, Missouri, 1864 – A divided state languishes under martial law and the once-peaceful river town where Becky Thatcher grew up throngs with soldiers, spies, and sedition. When her father falls under suspicion of treason, the last person she expects to drop in—literally—is the man who broke his promise to her years ago. Why has Tom Sawyer returned, and why now?
Tom pledges to help Becky vindicate the judge. With crucial memories missing he must fill in the facts, which run contrary to her assertions. Instead of improving matters, his involvement catapults them into a web of intrigue involving her disloyal cousin, Tom's relentless brother, and a childhood friend who offers her safety and security in return for her hand in marriage.
Becky is no longer the naive, spoiled girl Tom remembers. But who is he? A deserter? A charlatan? A loyal friend? She isn't certain she can rely on her heart to guide her. If Tom doesn't keep his word this time, she will face her enemies alone, armed only with her courage and a secret that could get her killed.
Inspired by America's favorite storyteller, bestselling author E.E. Burke brings her vision to a Civil War thriller with characters borrowed from Mark Twain's classics. If you enjoy a rollicking romance between sharp-witted contenders, woven into the framework of a plot-twisting page-turner, don't miss E.E.'s newest adventure, Tom Sawyer Returns.
Order Now!
About the Book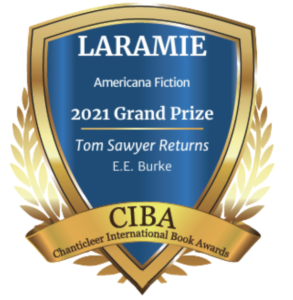 Laramie Grand Prize and First Place Winner in 2021 Chanticleer International Book Awards. 
Featured by the Mark Twain House & Museum
"Tom Sawyer Returns delivers a Civil War-era thriller worthy of its leading characters. Highly recommended!" – Chanticleer Reviews
Tom Sawyer Returns is the second book in The New Adventures series by author E.E. Burke. Readers join a now grown-up and far more independent Becky Thatcher as she maneuvers her complicated life in Civil War-era Mississippi. Tom has long since left, and Becky is engaged to Union Captain Alfred Temple, who offers her all the safety and security she needs in such uncertain times. But does she love him? Actually love him?
Becky soon discovers that her heart may have other plans.
When an injured Tom Sawyer bursts through her door and collapses onto the kitchen floor, Becky and her father – Judge Thatcher – take him in, care for him, and find out that he may have stumbled into the house for reasons more than the simple rekindling of a lost flame. With Judge Thatcher caught up in a twisted ploy posed by the rebels, Becky must partner up with Tom in order to save her father. But with Tom's memories nowhere to be found, and his aptitude for ending up smack dab in the middle of trouble, the two find themselves venturing down a twisting road of discovery, mystery, and uncertainty.
Set in a divided world rife with danger and history, E.E. Burke takes characters so close to the heart of Americana and gives them new life.
Fans of Mark Twain's original work will appreciate the attention to detail and the care in which the story is crafted, paying homage to the original tales of Tom Sawyer and his wild adventures. But this continuation sees a deeper, more intimate portrait of Becky Thatcher – a girl grown into a woman, who's come into her own confidence and whose sharp mind sees her through many perilous situations.
While the title of the book may be Tom Sawyer Returns, don't let that fool you – Becky Thatcher is the heart of this book, the backbone, the brains.
Becky and Tom have grown significantly since their childhood days, and Burke expertly takes two kids written nearly 150 years ago and turns them into adults whose life experiences have been shaped by the Civil War; two individuals who are fiercely independent, yet whose attitudes and opinions have been molded by the world they live in. They jump off the page as not simply characters, but as fully realized people. People with complexities, fears, and failures.
Not only does Tom Sawyer Returns take the reader on an adventurous ride filled with plots and ploys, but it also provides a beautiful romance that blooms amidst the thorns of trouble.
E.E. Burke writes with a balance of delicacy and sharpness, showing the true nature of love – that it is something tangled and complicated. As the reader follows Becky and Tom, they're never made to doubt the pair's attraction, but to instead find comfort knowing that while their combined history may complicate their feelings for each other, love will still prevail in end. As it always does, and as it always will continue to do.

"Tom Sawyer Returns by E.E. Burke was a wonderful reuniting of Tom and Becky Thatcher. I was hooked on Tom Sawyer Returns from the first word until the very last…a top-notch book that deserves lots of praise!" ~ Readers Favorite Reviewer Trudi LoPreto
Other Books in "The New Adventures"
Disclosure of Material Connection: Some of the links in the page above are "affiliate links." This means if you click on the link and purchase the item, I will receive an affiliate commission. I am disclosing this in accordance with the Federal Trade Commission's
16 CFR, Part 255
: "Guides Concerning the Use of Endorsements and Testimonials in Advertising."