Last year on Valentine's Day, I was featured by the Mark Twain House & Museum in the author spotlight, Romancing Mark Twain. Later in the year, my novel Tom Sawyer Returns won the Laramie Grand Prize for Americana Fiction in the 2021 Chanticleer International Book Awards. This year, it reached First Place in the 2022 contest for Mystery. I could not be more thrilled and honored.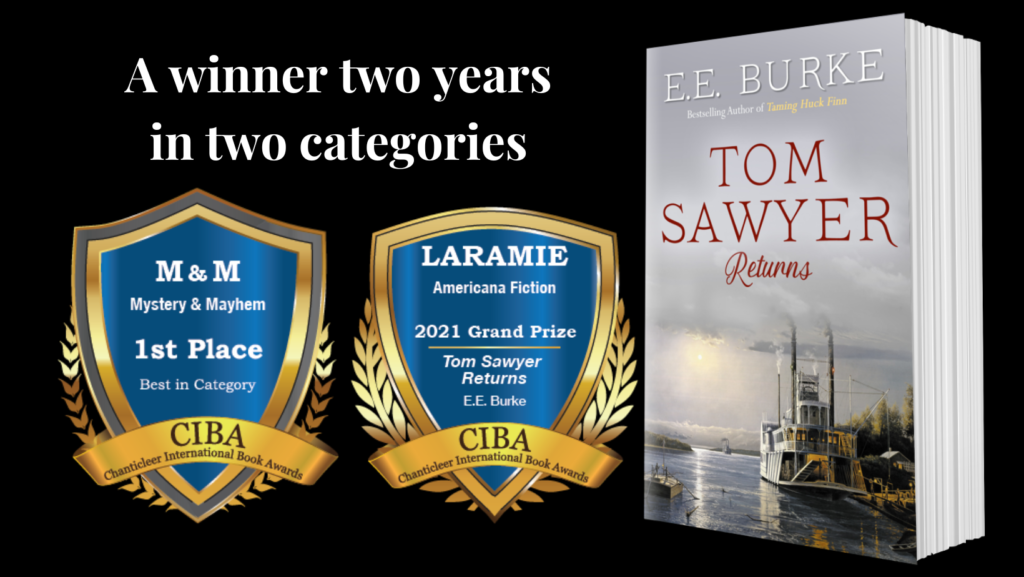 Both books in this series are the work of a lifetime. Of all the novels I've written, these are my favorite. What gave me inspiration for taking on Twain's classic characters as adults? Read on for my answers.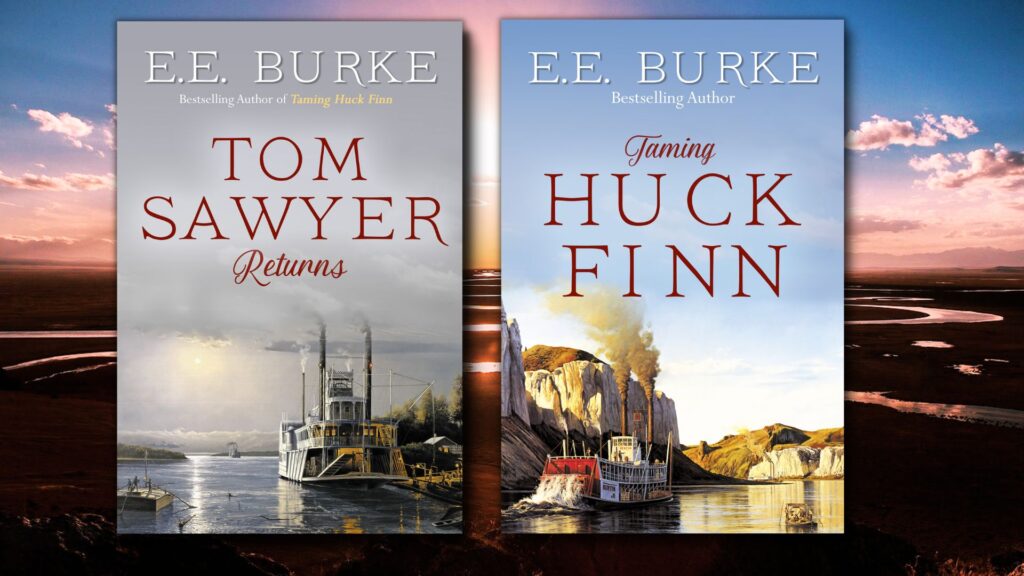 Excerpts from my interview with Rebecca Floyd, Director of Interpretation at the MTH&M.
Rebecca: Everyone has a story of how they were introduced to Mark Twain. What is yours and why do you adore these characters so much?
E.E.: I read The Adventures of Tom Sawyer and Adventures of Huckleberry Finn when I was in grade school and high school. (Didn't we all?) The stories about Tom and Huck's adventures resonated with me. I didn't grow up in Missouri, but as I'm thinking back, I can see how the rural area in Florida where I was raised had similarities in its cultural background. The boys reminded me of other boys I knew, and of my "tomboy" self. They became woven into the fabric of my childhood like old friends. Years later, I longed to know what happened to them when they grew up. The author didn't tell us, although he left a great deal of written literature that provided helpful guidance and cultural perspective. I had to envision the possibilities.
Rebecca: How did you go about imagining these fictional children into fictional adults?
E.E.: It was extremely important to me to honor Twain's characters as he had created them. Of course, he created them as children. I wanted them to retain their core personalities, the unique aspects of their character that made them so endearing, yet they had to grow up. They had to become men (and women) who lived their own history, with all the painful and beautiful experiences that go along with it, as well as the complications and complexities that make adult life so challenging.
In the original adventures, Becky is a product of her upbringing: a spoiled only child of an influential judge, pampered, the center of attention, the Victorian ideal of girlhood.
I asked myself—what attracted her to Tom in the first place? He's not exactly the type to be voted as "most likely to succeed." Her parents wouldn't have approved of him as a suitor. Becky flouts social strictures when she takes up with the schoolyard scoundrel. This gave me the kernel of an idea.
If Becky had to live through the hellish experience of the Civil War in Missouri, if she lost everything, stood to lose even her beloved father, and was forced to depend on herself, she would either collapse or become a stronger person. I voted for her strength.
Tom matures into a surprisingly complex character. He's a wartime spy who has spent years risking his life for the sake of honor, loyalty, and, frankly, his obsession with being a hero. He is duty-bound and responsible, but deep inside he is also the eternal, willful boy. One who craves attention and affection, much like his creator, Mark Twain (Sam Clemens). Livy (Sam's wife), had a nickname for him. Youth.
Rebecca: I found the clever ways you entwined elements of the original stories really interesting. How did you come up with all the additional facts about the characters and story?
E.E.: Twain's original stories essentially served as backstories for the adult characters in my books. Where he didn't expound (i.e., secondary characters, family relationships, historical events) I came up with what I thought would be a feasible history. I used a variety of sources for this: Mark Twain's autobiography, historical information, and my imagination.
I asked myself, "what if" Twain's creations were actual people who could be placed in history? I put them in the same general timeframe as the man, Sam Clemens, because he was writing about these characters as contemporaries. His fictionalized settings were based on real places and real events. All this helped me flesh out Twain's future world.
While these books are rooted in Twain's original novels, readers can still enjoy them even if they haven't read the originals or don't recall them. I just think you might enjoy these novels even more if you revisit Twain's adventures.
Watch the entire interview here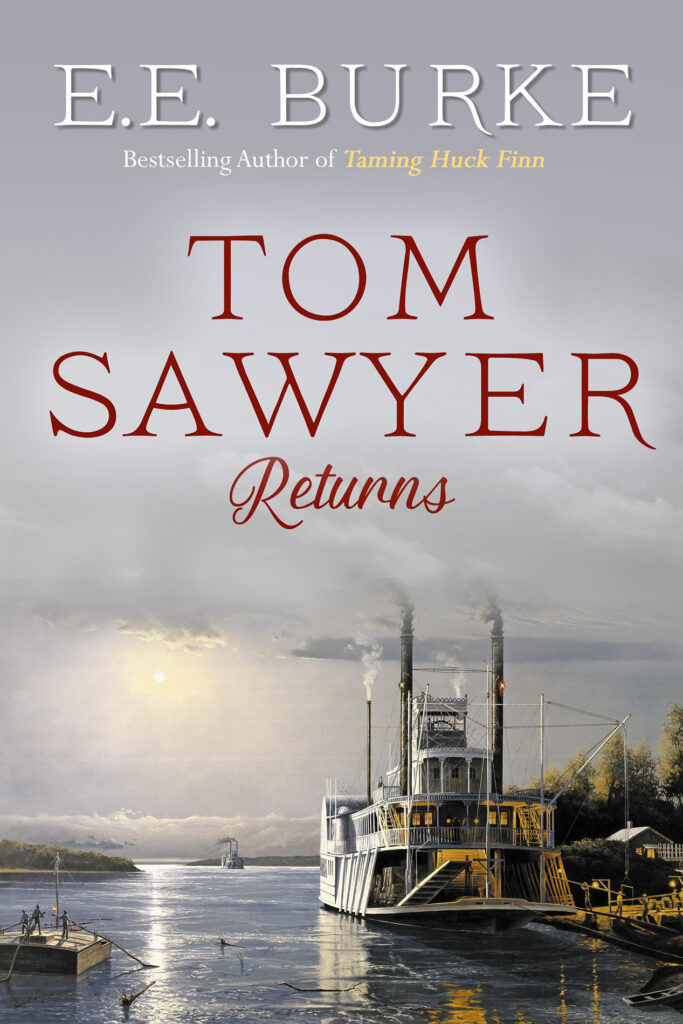 Missouri, 1864
The country is at war, Missouri languishes under martial law, and a once-peaceful river town throngs with soldiers, spies, and sedition.
Caught in the middle is Becky Thatcher. Once a pampered only child, she has lost nearly everything, including love. When her father is jailed for treason and their very survival depends on her, the last person she wants to rely on is her faithless first beau, Tom Sawyer, who shows up unconscious at her doorstep after having gone missing for years.
Tom has no problem remembering the mistakes he made concerning Becky, but is she the reason he has returned home? Upon awakening without crucial memories, the undercover spy can't recall his mission and dares not confide in anyone—not even his childhood sweetheart.
Becky would as soon trust a snake as depend on Tom or accept his help, but it is only by working together that they can solve a mystery and find a traitor–before he finds them.
Inspired by America's favorite storyteller, bestselling author E.E. Burke brings her vision to two unique historical novels with a colorful cast of characters, both familiar and new, in Tom Sawyer Returns and Taming Huck Finn.
You can purchase Tom Sawyer Returns at the following retailers: books2read.com/NewAdventure1
Have you read either of the original classics? Who was your favorite character? What made him (or her) so special?