The author Mark Twain is best remembered for his satire and his scathing observations on human nature. But there was another side to the man, Samuel Clemens…a romantic one.
At age 32, Sam returned from a successful trip abroad with a new friend, Charles Langdon, who invited Sam to an outing with his family. It was late December 1867 when Sam joined the Langdons at Steinway Hall in New York City to hear Charles Dickens read from David Copperfield. The reading didn't impress Sam, but the young woman he met certainly did.
"It made the fortune of my life–not in dollar, I am not thinking in dollars; it made the real fortune of my life in that it made the happiness of my life."

samuel clemens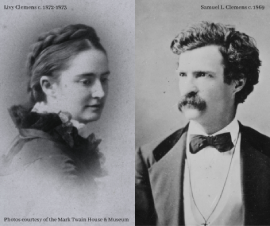 At first, happiness wasn't certain. With typical spontaneity, Sam popped the question soon after the first date. Livy turned him down. Crushed, though not defeated, he penned a respectful, yet ardent, letter, the first of many in their two-year courtship. Here's an excerpt from that letter, in which he claims to accept her refusal and addresses her as "honored sister."
For once, at least, in the idle years that have drifted over me, I have seen the world all beautiful, & known what it was to hope. For once I have known what it was to feel my sluggish pulses stir with a living ambition. The world that was so beautiful, is dark again; the hope that shone as the sun, is gone; the brave ambition is dead. Yet I say again, it is better for me that I have loved & do love you; that with more than Eastern devotion I worship you; that I lay down all of my life that is worth the living, upon this hopeless altar where no fires of love shall descend to consume it. If you could but—

from Samuel Clemens early Letter to Olivia Langdon
He goes on to profess friendship, but he more or less begs her to open her heart and give him a chance. She does, and after two years and many more letters, finally admits to loving him, but adds that she hopes it will pass! Sam, undaunted, redoubles his efforts until his determination pays off. Triumphant, he writes to share the news in a letter to his friend.
Refused three times—warned to quit, once—accepted at last!—& beloved!— … Oh, no—there isn't any persistence about me—certainly not. But I am so happy I want to scalp somebody.

from Samuel Clemens letter to Joseph Twichell
By all accounts, Livy adored her husband until the day of her death in 1904. This poignant recollection from Twain's autobiography gives some insight into one of the reasons Sam loved his Livy so faithfully and passionately.
She poured out her prodigal affection in kisses and caresses, and in a vocabulary of endearments whose profusion was always an astonishment to me.

Mark Twain Autobiography
Romance & Mark Twain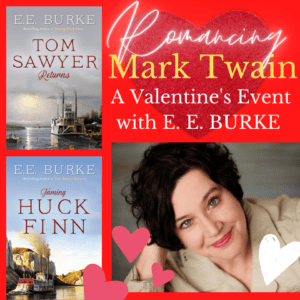 Recently, I was featured on a virtual spotlight program at the Mark Twain House & Museum in Hartford, CT. Museum Director of Interpretation Rebecca Floyd spoke with me about my fascination with Mark Twain and his iconic characters, and the inspiration behind two historical novels that explore what might have happened to Tom and Huck after they grew up.
Tom Sawyer Returns also recently advanced as a Finalist in the Chanticleer International Book Awards (CIBAs).
Next month, I'll be sharing fun historical facts behind my new release, Lawless Hearts, the final and most exciting installment in the Steam! Romance & Rails series.
E.E. Burke
*Photos and letters courtesy of the Mark Twain House & Museum. Special thanks to Rebecca Floyd, Director of Interpretation, for her assistance with these articles.