TAMING HUCK FINN by E.E. Burke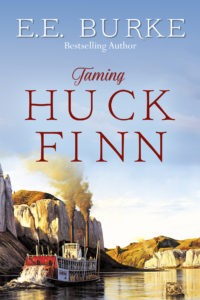 Steamboat pilot Huck Finn lives life on his own terms, steering clear of the kind of messy entanglements that would tie a man down–until he takes charge of an orphan and defies the "old maid" determined to raise him.
What follows is a wild journey filled with humor, high jinx and heart-pounding danger, as a freedom-loving adventurer and an avowed spinster battle over the destiny of a young boy who is doing his level best to convince them they belong together.
Embark on an unforgettable adventure from award-winning author E.E. Burke in a novel inspired by one of America's most beloved characters.
Order your copy today:
E.E. answers your questions:
Where did you get the idea for this story?
I'm a big fan of Mark Twain's original story and always had a soft spot for Huck. I wondered what kind of man he would grow up to be. This is the story Huck gave me when I asked him what happened to him after he "set out for the Territory."
How did you decide what occupation Huck would have as an adult?
It didn't seem a far stretch to imagine Huck growing up to be a steamboat pilot. He was a child of the river, and I couldn't see him straying far. Plus, he had the intelligence and temperament to pilot steamboats, which requires a unique combination of skills, instinct, excellent reflexes, and steely nerve.
Of course, I couldn't write a book about Huck being a steamboat pilot without referring to Mark Twain's Life On The Mississippi, which is largely based on Samuel Clemens own apprenticeship as a riverboat pilot. Reading the diaries of Missouri River pilots helped me place Huck on a different river, one that I think it fits his personality.
Why put the story on the Missouri River rather than the Mississippi – the original setting?
In Taming Huck Finn, as in Twain's original book, the river itself is a character.
The Missouri River of today is nothing like what it was at the time of Huck's story (1870). Before being dredged and tamed by the Army Corps of Engineers in the early 20th century, the "Big Muddy" was sprawling and unpredictable. I have a map that shows where steamboats sank along the old path of the river, and it is littered with wrecks. Taking a steamboat on the Missouri River was a dangerous undertaking, especially into the north part of the river where it was shallower and rocky and prone to flooding. Just the kind of challenge Huck Finn would relish.
During this same time, the era of the steamboat was giving way to the steady advancement of the railroads. Huck sees himself, the old boats and even the river, as relics of a past that is quickly fading. He's struggling to figure out how he fits into a new world rapidly catching up with him. Does he keep running? Or does he risk his freedom for the one thing that's eluded him all these years?
You'll have to read the book to find out.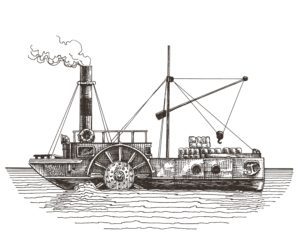 SaveSave
SaveSave
SaveSave