Taming the West one bride at a time…
Four women answer a railroad advertisement seeking single young ladies as brides for settlers on the Western frontier. The Bride Train carries them to a land plagued by violence and unrest…a place where passion rules…and only a woman's touch can tame it into love.
Valentine's Rose
An English nobleman searching for riches, an Irish laundress seeking love… Only in American would Fate be foolish enough to put them together.
Patrick's Charm
A disabled veteran's fortunes improve after he hires a beautiful and talented performer…but when her past catches up will his luck run out?
Tempting Prudence
An upright spinster is kidnapped to become the bride of a notorious bootlegger and finds an unexpected chance at love…if she'll risk everything, including her reputation.
Seducing Susannah
The arrogant railroad agent must marry a proper lady to reclaim his inheritance, but the woman he wants despises him passionately.
Prequel: A Bride's Journey
"BONUS!! Prequel: A Bride's Journey Enjoy this brief introduction to The Bride Train Series, which provides a glimpse into the journal of one of the brides traveling west.
This series features a cast of characters taken straight from the pages of history. Why not try your hand at matching them? Who would YOU put together and why?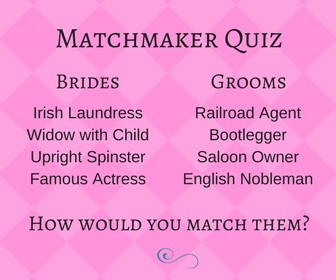 All four of the Bride Train books have become Amazon bestsellers, and Tempting Prudence won a readers' and bloggers' book award for Best Western Romance in 2016.
Take a ride on the Bride Train out to the American West and fall in love!
Purchase the collection today!
SaveSaveSaveSave
SaveSave
SaveSave
SaveSave
SaveSave