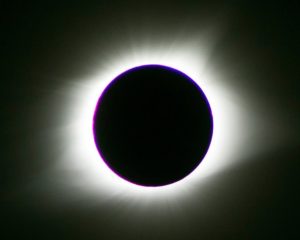 On Aug.21, 2017, parts  of Kansas witnessed an extraordinary, once-in-a-lifetime event: a total eclipse of the sun! Ironically, this solar event occurred on the 154th anniversary of another historical, never-to-be-forgotten event in Kansas.
The Day Hate Eclipsed Decency
On Aug. 21, 1863, Confederate ally and guerilla commander William C. Quantrill rounded up three hundred Missouri "bushwhackers" and descended on Lawrence, Kansas, wreaking a terrible vengeance on a town known for its strong stance on the abolition of slavery.
What forces drove these men to attack a town filled with civilians? Some would say a thirst for revenge. Tit for tat after a disaster in Kansas City when a building where Confederate women prisoners were kept collapsed on top of them, and other perceived injustices. By this time, deadly conflicts had raged along the Missouri-Kansas border for nearly a decade, costing innocent lives on both sides. The violence continued to spiral as the nation grappled in a civil war.
Years later, these men who'd given in to violence and hatred had to find their way back to decency. Some, like Jesse James, never did.
Although the series, Steam! Romance and Rails, begins five years after the end of the American Civil War, the two main characters in this novel are still struggling to find healing.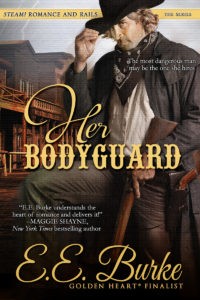 Her Bodyguard, part of the series Steam! Romance and Rails, weaves history and suspense together in a tale of deceit and betrayal, heroism and sacrifice, and the unfailing power of love.
Can love eclipse hate?
For America "Amy" Langford, investing in the railroad isn't about chasing riches. The savvy businesswoman is after bigger stakes: influence, respect, success her father didn't live to see. Rioting settlers and underhanded competitors can't stop her, but a killer might.
Buck O'Connor has put his violent past behind him, but being a wanted man dictates a life of deceit. So what's one more lie? He becomes Amy's protector so he can secretly thwart her railroad's progress to help his cousin avoid financial ruin. A great scheme—until he falls in love.
While Buck hides his true purpose, Amy lies to herself about her growing feelings for her bodyguard. But the price for deceit is steep, and secrets from the past could destroy their future—if they survive.
"E.E. Burke understands the heart of romance…and delivers it!" New York Times bestselling author Maggie Shayne
"Her portrayal of strong, realistic, well-defined characters and meticulous research transports readers back to the American West." Jill Marie Landis, New York Times bestselling author
"Amy and Buck had chemistry and steam between them to power a train! Their push-pull relationship and witty banter was riveting." Melanie Friedman, Bookworm2Bookworm Reviews
In this excerpt, Buck has just discovered that the railroad promoter he's supposed to remove is, in fact, a woman–the same woman who offered him a position as her bodyguard.
Buck opened the door to the newspaper office and stepped inside.
Two men were engaged in a discussion. A bearded man behind a desk piled high with newspapers glanced up. The other man sitting in front of the desk twisted in his chair, and then bolted to his feet, his eyebrows arching nearly to a sweep of black hair.
Buck met pale blue eyes similar to his own, but untainted with the icy gray of the cold-hearted bastard who'd sired him. He took an uncertain step forward, waiting a heartbeat for the familiar grin. "Sean?"
Relief flickered across the matured face, however Sean didn't embrace him as he'd always done in years past. He offered a handshake instead. ""Buck, we wondered if you'd show up."
Buck gripped his cousin's outstretched hand and squelched a twinge of disappointment. He hadn't really expected to be greeted with open arms. They'd not seen each other for years and in between had served on opposite sides of a war. Yet, he had hoped for a warmer welcome than this.
His gaze flickered over his cousin's shoulder to the grizzled man who'd stood, waiting to be introduced. Sean did his duty. "Buck, this is Amos Sanford. He's the editor of the Workingman's Journal. I wrote to you about him. He's helping us settlers organize."
Sanford inclined his head but didn't come out from behind the desk to shake his visitor's hand. "Mr. O'Connor, good to see you could make it here to help us out."
Buck held a neutral expression. "What kind of help would that be?"
"What kind?" Sean looked startled. "Well, the kind I wrote to you about." He sent a worried glance the editor's direction.
"We need your help with removing an obstacle," Sanford said smoothly.
Aggravation churned in Buck's stomach. "An obstacle? Is that what you call her?"
When neither man answered, he strolled over to the desk and picked up a newspaper. The headline urged settlers to rise up and defend their rights. Where had he heard that kind of rhetoric before? Simmering, he rolled the paper like a club and tapped it against his palm. He had a good mind to beat these two over the head with it. "You got the wrong man for the job. I don't kill women."
Sanford sat and leaned back in his chair, stroking a gray beard that reached to the top button of his vest. Canyon deep lines rearranged themselves into a paternalistic frown. "You must have misunderstood, Mr. O'Connor. We haven't asked you to kill anybody, much less a woman."
Buck tossed the newspaper aside and snatched Sean's letter out of his pocket. He slapped it on the desk. "States here you want me to get rid of a railroad promoter. That don't mean sending a body away on a pleasure excursion."
The chair creaked as Sanford reached for the letter. He peered through round spectacles perched at the end of his nose, perusing the lines like he'd never seen them. The crafty old fox had probably helped Sean craft the damn missive. After a minute, he folded the letter and crossed his arms over his chest. "There are many ways to remove obstacles, Mr. O'Connor. I suspect you're bright enough to figure it out. Sean told me you led a company of irregulars during the war. The fact you're alive proves you've still got a few tricks up your sleeve."
An alarm tripped in Buck's head. So that's why the Land League wanted to hire him. They thought he was still in the ambushing business. He looked at Sean, who wouldn't meet his eyes. He'd risked getting his neck stretched by returning to Kansas, but honor demanded he at least try to right a wrong done to his kinsman. Now it looked like he was a fool who'd walked into a trap.
His cousin stood at rigid attention, his tanned face drawn tight as the hide on a drum, not meeting Buck's eyes. An ache started in the center of his chest. Despite their past, they were the only family each other had left. How could Sean have betrayed him like this?
Pulling back his coat, he revealed the twin Navy Colts at his side before pinning the editor with a cold stare. He hadn't killed anyone since the day he'd left this godforsaken state, but he would reinforce the perception he was a dangerous man to cross so they'd think twice about hiring him to do their dirty work and then trying to collect a reward. "My wartime sentiments don't have a damn thing to do with this."
Sanford huffed. "We don't care about your sentiments. It's your skills we're interested in."
"So, you admit it. You want to hire a big gun to take care of one little lady."
"Don't be fooled by that pretty face," Sanford blustered. "Amy Preston will do anything to advance that cursed railroad. With this Young Ladies Immigration Society she's using the age-old strategy for dividing men. Women."
Buck snorted a derisive laugh. "What's so dangerous about importing wives for a bunch of horny settlers?"
The editor swelled up like a toad. "She's dangling petticoats as an enticement to get us to pay those exorbitant prices her boss is charging for land. These boys were soldiers and most of them are unmarried. I suppose you've noticed how few decent women there are out here. It's a devilishly brilliant scheme concocted by a woman who'd sell her soul for thirty pieces of silver."
It was a brilliant idea, but Buck had already figured out Amy was smart. Her motives, however, weren't so clear. Was she really that greedy? "I met her already, so I know what she's up to, but she thinks somebody's trying to kill her." He narrowed his eyes in a way that put most men in a fearful sweat. "If I decide to help, I need to know whether you've hired somebody else—and don't even think about lying to me."
"We don't have enough money to hire somebody else," Sean grumbled. "If somebody's trying to kill her, it's probably 'cause she robbed him blind."
Sanford grunted an agreement. "Maybe she's making that up so you'll feel sorry for her. Where did you say you met her?"
Buck didn't say, nor was he interested in providing the details. "I happened across her. She was waiting on some fellow who was supposed to help with that immigration society you mentioned."
Sanford's eyes sharpened with interest. "We had a talk with him. I don't think he's interested in volunteering anymore. Did she happen to mention her next move? We can't afford to lose any more leverage against the devil who's behind this fraud."
James Joy. The force behind the Border Tier and Satan incarnate if the settlers were to be believed. He was Amy's boss. So what did that make her? Last night, she'd looked downright angelic, even wringing wet.
If Sanford hadn't hired another gun, then her attacker was likely a renegade. Was he an irate settler, an unhappy farmer, one of the men who'd signed up for her program and gotten an ugly wife? The list could be endless.
"She didn't mention her plans." Buck lifted his hat and threaded his fingers through his hair, his unease getting worse. She hadn't told him much, but she'd played him masterfully to gain his promise of protection, something he'd offered to no woman since being betrayed by another smart, pretty one.
Still, he'd given his word and he wouldn't go back on it. He adjusted his coat, covering the guns at his side. "Just so we're clear, I'm not using violence against a woman, so I don't know what it is you want me to do."
Sanford jerked to his feet. "Distract her. Deceive her. Discredit her. We don't care, so long as you prevent her from succeeding in her schemes."
The frown melted as he came out from behind the desk and clapped a hand on Buck's shoulder. "Why don't you boys go over to the saloon and get reacquainted? Tell them I'll pay for your drinks. I'm sure after you hear Sean's side of things, it will clear up any misgivings you might have about ridding us of that troublesome woman."
Buck shrugged off the unwanted familiarity. He hadn't signed on for this kind of work. On the other hand, he couldn't walk away without at least hearing what his cousin had to say.
Sanford casually laid his fingers on a dog-eared Bible at the corner of his desk. "You recall the story of Samson and Delilah? Makes a man think twice about falling for a pretty woman."
Her Bodyguard, the second book in the series Romance and Rails, weaves suspense and history together in a tale of deceit, betrayal and the unfailing power of love.
Or purchase the entire Steam! Series in a boxed set at a special price!
This week, I'm giving away a $5 Amazon gift card. Just enter the raffle and leave a comment.
Did you see the eclipse yesterday? What did it look like in your part of the world?
SaveSave
SaveSave
SaveSave