For a limited time, you can pick up SEDUCING SUSANNAH for only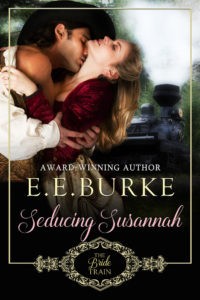 99 cents. 
When all else fails, try seduction.
Ross Hardt must marry a proper lady to reclaim his inheritance. Among the few remaining prospects in town is a beautiful, sassy widow who has tantalized him from the day they first met—the same day she slapped his face.
Susannah Braddock journeyed west on The Bride Train in search of a good father for her young son, but on the lawless frontier few candidates meet her requirements, least of all the arrogant, demanding, unfeeling railroad agent.
As Fate—and Ross's scheming—draws them closer, Susannah glimpses unexpected tenderness beneath his harsh exterior, and she's tempted by the fiery passion that flares between them. But when a secret comes out that threatens to destroy their budding relationship, passion isn't enough. Only love can weather the oncoming storm. 
SEDUCING SUSANNAH is Book 4 in an exciting series inspired by true events. Sweetly passionate, filled with wit and warmth–don't miss this top-rated historical romance. 
NOW ON SALE FOR ONLY 99 CENTS
AmazonUS |  iBooks | B&N | Kobo | Google
AmazonCA | AmazonUK | AmazonAU
Here's an excerpt:
Ross stood to stretch his legs. Needing to move, he crossed to the large picture window, which had been shipped in by railroad for a dress shop that had failed to materialize. The previous land agent used the glass for the land office instead. Ross enjoyed being able to see outside. He hated to be cooped up in a dark room.
A petite woman walking briskly from the corner arrested his gaze. Susannah Braddock. He'd recognize her curvaceous form anywhere—or his body would, at any rate. Inconvenient, this strong attraction he had to a woman who despised him.
Talk about first impressions. She'd made a hell of an impression the day she'd arrived in town, smacked his face so hard his ears rang. Granted, he had it coming after losing his patience and embarrassing her. Since then, he'd tried to find the right time and place to apologize, even stooping so low as to seek her out at church and sit beside her, hoping to speak to her afterwards. She'd shooed him away in front of the entire congregation. He ought to call it a draw and let her be, but he couldn't.
"Ross, there's something I need to tell you." Val's solemn tone drew Ross's attention. Why the look of concern?
"Is Mrs. Valentine ill?"
"No, she's very well, thank you. She's shopping. Rose won't have time to stop by, but she sends her regards." Val didn't bat an eye or indicate he still struggled with jealousy.
Ross had a slight bump on the bridge of his nose as a reminder. "Give her my regards in return, and tell her thank you."
"For what?"
"For not coming by to see me and tempting you to punch me in the nose again." Ross's smile faded when his friend didn't respond to the dig. He'd never been interested in Rose Muldoon beyond a sort of brotherly affection. Surely Val realized that by now. "What's the trouble? You appear concerned."
"I am concerned. For you."
Ross released a laugh that sounded rusty. He hadn't found many things amusing lately, but this was a good joke. Val must've looked out the window and seen the feisty widow approaching, and couldn't resist returning a jab. He'd been witness to the face-slapping incident. "Aside from being a bantam, I don't believe she's dangerous."
"Mrs. Braddock?" Val rose from his chair and joined Ross at the window. "Ah. I disagree. A determined woman can be very dangerous.
Welcome to The Bride Train
Four women answer a railroad advertisement seeking single young ladies as brides for settlers on the Western frontier. The Bride Train takes them to a land plagued by violence and unrest, a place where passion rules and only a woman's touch can tame it into love.
SaveSave
SaveSave
SaveSave
SaveSave