Eve Find Your Adam in the Garden of the World!
Single young ladies of good reputation desiring to emigrate west for the purpose of marriage may apply to the Young Ladies Immigration Society for free travel to southeastern Kansas, where hardworking settlers are eager to make your acquaintance and become steadfast husbands. Applicants must be free to wed, of marriageable age, preferably between the years of 18 and 25, without deformities, debts or other encumbrances. Dance hall girls, circus performers and soiled doves need not apply. Must provide references.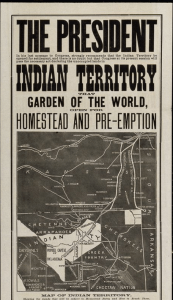 With this advertisement begins a journey for seven women who answer the call to become brides for settlers on the Western frontier. The Bride Train takes them to a land plagued by violence and unrest. A place ruled by passion that only a woman's touch can tame into love.
---
The Bride Train
Taming the West one bride at a time.
The mail-order bride phenomenon in 19th century America spawned personal advertisements, matrimonial newspapers and matchmaking services—even railroads wanted a piece of the action.
The Bride Train is inspired by a series of true events that took place in southeastern Kansas shortly after the Civil War, when the government opened up former Cherokee land. The railroads used their political power purchase the large tract before preemption claims were certified, forcing those who had already settled in the territory to broker deals with the new owner.
By 1869, riots broke out in protest of railroad land policies. Angry settlers burned ties and tore up track as fast as the railroad could put it down. Things got so bad that President Grant sent troops into Kansas to quell the violence. A more peaceful solution was proposed: a program sponsoring the immigration of single young ladies into Kansas to become brides and provide a "calming influence" on the unruly men. I couldn't find any evidence this program got off the ground, but what a great romance series idea!
The Bride Train is first mentioned in my debut romance nov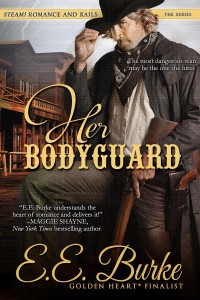 el, Her Bodyguard, which is set against the same series of events in a different location. Click here to read a scene about the arrival of the first Bride Train.
That scene inspired me to conceive an entire series about the railroad matchmaking service. The first question that popped into my head was: "What kind of women would answer an advertisement to leave everything behind and go to an unknown and largely uncivilized land to marry virtual strangers? They would have to be desperate, or adventurous in the extreme.
Let me introduce you to the first bride:
Rose Muldoon, 20, is an Irish laundress from Five Points, a crime-ridden slum in New York City. After a terrible tragedy, she finds herself alone, destitute and with few good men to choose from. She decides to seek a hardworking husband out West and start a family to replace the one she's lost.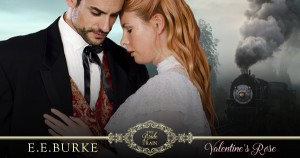 When considering a hero who would be perfect for my Irish Rose, I thought, why not a dissolute English nobleman?
(Don't you love mismatched couples?)
Constantine Valentine is the second son of an English Baron. His reckless, irresponsible lifestyle results in banishment and unexpected poverty. Never one to quit, Val decides to seek his fortune in America and then return home to repair his tarnished reputation.
The surname Valentine, of Anglo-Saxon origin, comes from a Latin name Valentinus, from the root word valens, which means strong and healthy. The word "valor" comes from this root. But even a strong man is bound to have a weakness. One that only his true love can help him overcome…
Click here to read an excerpt from Valentine's Rose.
If you'd like to know more about the series and be notified when new books come out, sign up to receive my newsletter. Just for signing up, I'll send you a FREE book.
All Aboard!
E.E. Burke
~ Train photography by Matthew Malkeiwicz, all rights reserved. Check out more of Matthew's work on his website: Lost Tracks of Time.