NEW RELEASE! Patrick's Charm, Book 2 in The Bride Train series
She believes in nothing. He has nothing left to believe in, except his good luck charm.
Lady Luck hasn't been kind to Patrick O'Shea. The Irish immigrant has suffered loss, betrayal and bitter disappointment since arriving in America. When a talented performer shows up at his saloon looking for a job, it appears his luck is about to change.
Charm LaBelle would rather take a job singing in a saloon than be forced to marry. The famous actress is on the run from danger and has learned the hard way not to entrust her life, or her heart, to any man…in particular, her charming employer.
Patrick is determined to hold onto his good luck through whatever means necessary, including marriage. But Charm won't give up her freedom or her secrets, and it's only a matter of time before luck runs out.
Read an excerpt from Patrick's Charm.
Fun Facts about Patrick's Charm…
Patrick's Charm features a disabled veteran and a runaway actress who both desperately need a lucky break. Researching this book, I learned a great deal about the Irish experience in America's Civil War. While the war was raging in the early 1860s, the Union turned to the immigration docks for new recruits. These young men were signed up "fresh off the boat" and sent into battle, often with little understanding of what they were up against.
This is how Patrick O'Shea starts his new life in America. Although he questions the wisdom of his decision to enlist, he nevertheless serves honorably, as did his countrymen, many of whom fought with the ill-fated Irish Brigade.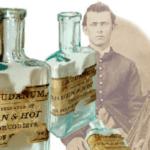 Patrick's permanent injuries are a constant reminder of his bad luck. Wounded soldiers were routinely dosed with opium for pain, and many of them, like Patrick, became dependent on the drug. Opium addiction among former troops was so widespread it was given the name Soldier's Disease. Imagine the strength it would've taken to cope with injury, addiction and the rigors of starting a new life on the frontier. I think you'll find Patrick a fascinating character.
Patrick meets his match in Charm LaBelle.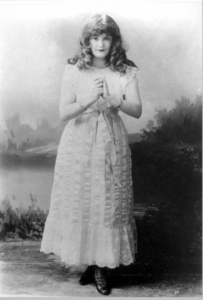 Charm is a famous actress traveling incognito. She signed onto the bride train as a means of escaping danger with no intention of getting married. Instead, she takes a job as a saloon singer. Her decision has far-reaching effects. I won't spoil the story by going into them.
Charm's character is loosely based on a famous 19th century actress, Lotta Crabtree, who got her start as a child, entertaining miners in San Francisco. Pursuing acting as a profession in America in those days required a great deal of courage and fortitude. Traveling through the wilds was bad enough. Performances were held in mining camps, saloons, and on makeshift stages. Only the famous few appeared in large theaters. Actresses who traveled the West were strong-willed and independent and certainly didn't fit the mold of Victorian womanhood, which it made it difficult for them to find suitable mates or form relationships with women outside their circle. It wasn't an easy life.
In her impromptu audition, Charm sings two songs popular during the war and afterwards. One you might classify as a "fight song," The Irish Volunteer. If you listen to this, you'll want to jump up and dance like the men did at O'Shea's saloon. The other, Lorena, is a ballad sure to bring tears to the eyes of former soldiers. 
It was great fun researching acts performed by traveling entertainers, which also included humorous skits created on the fly, and, surprisingly, lots of Shakespeare. Who knew the bard was so popular in the American West?
Both Charm and Patrick have lived with tragedy, bitter disappointment and betrayal. Trust isn't something that comes easily for either of them. Both are wounded in different ways. They must come together to help each other, and then, through love, find healing.
I hope you enjoy Patrick's Charm. Check back next month for information about the next book in the series. Until then…
Steam On!
E.E. Burke
~ How about those gorgeous trains on my covers! The images were taken by award-winning photographer Matthew Malkeiwicz. He travels the country capturing relics of the steam era, and his work is simply amazing. You can see more of it on his website, Lost Tracks of Time.