[huge_it_video_player id="3″]
  AN AMERICAN MAIL-ORDER BRIDE CHRISTMAS
Romance and adventure spark the spirit of Christmas for two mail-order brides…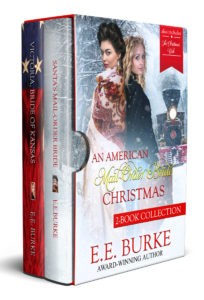 Victoria, Bride of Kansas (#1 Amazon Bestseller)
A lonely society miss travels a thousand miles to marry a suitor whose romantic letters won her heart, only to discover she's betrothed to a Scrooge.
Santa's Mail-Order Bride (the top-rated sequel)
A well-intentioned matchmaker has plans for a scheming Santa. Plans that don't include falling in love.
The Christmas Wish
In this short story, a young orphan who has never known love gets his Christmas wish.
When I set out to write these two stories, I wanted to include themes that for me define the true meaning of Christmas: family ties, hope, faith, the spirit of compassion and generosity, and above all, love…the kind of love that shines through the darkness of our circumstances, even the darkness in our hearts.
Victoria, Bride of Kansas, which became an Amazon bestseller, started as part of an unprecedented project with 45 other authors, the American Mail-Order Brides series. This book, about a lonely socialite who travels over a thousand miles to find true love, was a finalist in the 2016 Booksellers' Best Awards and a semifinalist in the Kindle Best Book awards.
Santa's Mail-Order Bride is the top-rated sequel. I couldn't let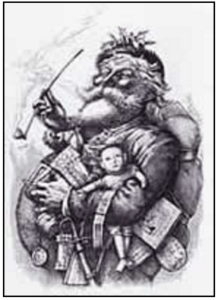 Victoria's meddling sister-in-law remain a spinster! This well-intentioned matchmaker has plans for a scheming Santa that backfire, with unexpected consequences. And yes, Virginia, there is a Santa Claus. I can't wait for you to meet him.
Where does my inspiration come from?
I'm a visual thinker, so I like to gather images of people that fit a mental picture of what my characters look like.
Victoria's beau, David O'Brien, looks a bit like a brooding Aiden Turner.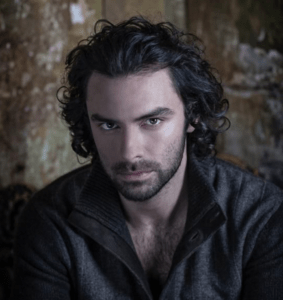 Maggie's hero, Gordon Sumner, has Michael Fassbender's gorgeous blue eyes and ginger hair.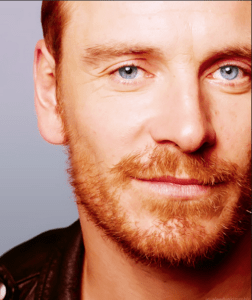 To see more of my inspiration, visit my Pinterest site: https://www.pinterest.com/authoreeburke/
I do lots of research when I'm preparing to write a historical romance, and if possible, I travel to the locations I write about. There's something about physically being at a place and seeing it and experiencing it that makes it so much more real to me, which helps with my writing. I visit historical sites and museums. Go into the library or wherever they keep historical pictures and documents.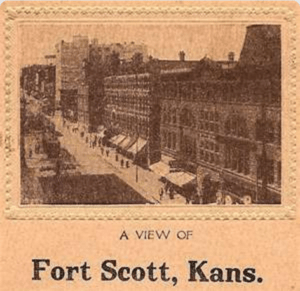 These two books are set in the late 1800s in Fort Scott, Kansas, and feature characters from my first novel, Her Bodyguard (set 20 years earlier). I had so much fun learning about the history of this quaint town and the pioneers who settled here. I hope through these books you'll come to love Fort Scott as much as I do.
Step into Christmas past with Victoria and Maggie this Christmas, and be sure to let me know what you think of their romantic adventures.
I pray this holiday season brings peace, hope and healing, for our great country, for our communities and for our families.
Blessings,
E.E. Burke