What's more fun than a bonfire and s'mores? Having a sizzling story to read while you're enjoying the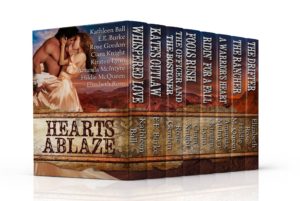 fall foliage. How about eight sizzling tales from the Old West?
I'm delighted to be part of a multi-bestselling author publishing project, HEARTS ABLAZE, a collection of eight Western historical romances set during the autumn months and blazing with passion and adventure.
This limited time boxed set is available for just 99 cents.  
http://bit.ly/BuyHeartsAblaze
When the eight of us first came together to work on this project, we quickly realized we had something very special–a collection that represents the varied and vibrant tapestry of the Old American West.
From the wild Pacific forests to the lonesome prairie, on wagon trains and at frontier outposts, you'll fall in love with lumberjacks and soldiers, trailblazers and trick riders, courageous warriors and rugged cowboys.
For my part, I've revised and expanded my debut novella, which is featured as part of the collection.
Kate's Outlaw is a suspenseful yarn about a half-breed desperado who abducts—and then rescues—a railroad heiress. On the run from danger, with enemies on both sides, Jake and Kate seek solace in each other's arms, igniting a love as powerful as it is forbidden.
Read on to learn more about the other books included in this limited time collection:
In Whispered Love, bestselling author Kathleen Ball takes you to the wild Pacific Northwest, a land bristling with handsome, well-muscled lumberjacks. Foreman Samuel Pearse has only one rule; no women allowed. Until he finds one asleep in his bathtub—Pat Clarke, the company cook. With her secret revealed and her virtue at stake, Pat turns to the only man who can help her…the one man who sets fire to her heart.
The Officer and the Bostoner, from USA Today bestselling author Rose Gordon, follows the adventures of a well-to-do lady traveling cross-country to meet her intended. Instead, she finds herself stranded at a military fort and forced into an unwanted marriage. Can a hot-blooded officer spark love in his wife's cold heart?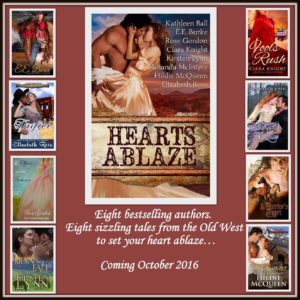 Fools Rush from USA Today bestselling author Ciara Knight. A young woman, desperate for independence from all men, embarks on a crazy cross-country wagon train adventure disguised as a man. Instead of finding her independence, a bounty hunter captures her under the guise of horse thieving, a crime punishable by hanging. Will a man she's lied to for months save her, or will he surrender her to a monster with a badge?
Ridin' For A Fall by Kirsten Lynn immerses you in a fiery tale of forever love. When circumstances force best friends and Wild West Show performers, Lena Boden and Kyle Allaway to marry and return to Wyoming, they must stand together against internal doubts and external forces seeking their destruction—or risk a fall that will knock them out of the saddle for good.
In A Warrior's Heart, bestselling author Amanda McIntyre brings to life the passionate story of a bold Cherokee warrior and the brave white woman he rescues from certain death. Thrown together by circumstances not of their own making, they overcome betrayal and tragedy to find a love strong enough to bring nations together.
The Rancher, by bestselling author Hildie McQueen, transports readers to 1870s Montana Territory and into a sensual encounter between an injured rancher and a woman running for her life. Sometimes love enters at the worst moment…
In The Drifter, bestselling author Elizabeth Rose takes readers on an epic journey across the plains, as drifter Chase Masters shows up wounded at Nessa Pemberton's stagecoach relay station mistaken as the bandit who killed her husband. Can a single mother learn to love again and put her trust in a man who is nothing but a drifter?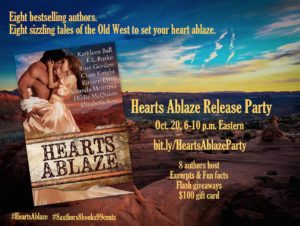 Let's party!
On Thursday, Oct. 20, from 6-10 p.m. Eastern, we're rounding up lovers of Western historical romance for a big celebration on Facebook. Joining me as hosts will be Hildie McQueen, Amanda McIntyre, Kathleen Ball, Rose Gordon, Ciara Knight and Elizabeth Rose. We'll be turning up the heat (on each other), and providing readers with excerpts, fun facts, Flash giveaways, and a drawing for a $100 Amazon gift card!
Here's the link to join the party. http://bit.ly/HeartsAblazeParty