Say hello to Maybe Baby, the first installment in my new contemporary romance series, Texas Hardts.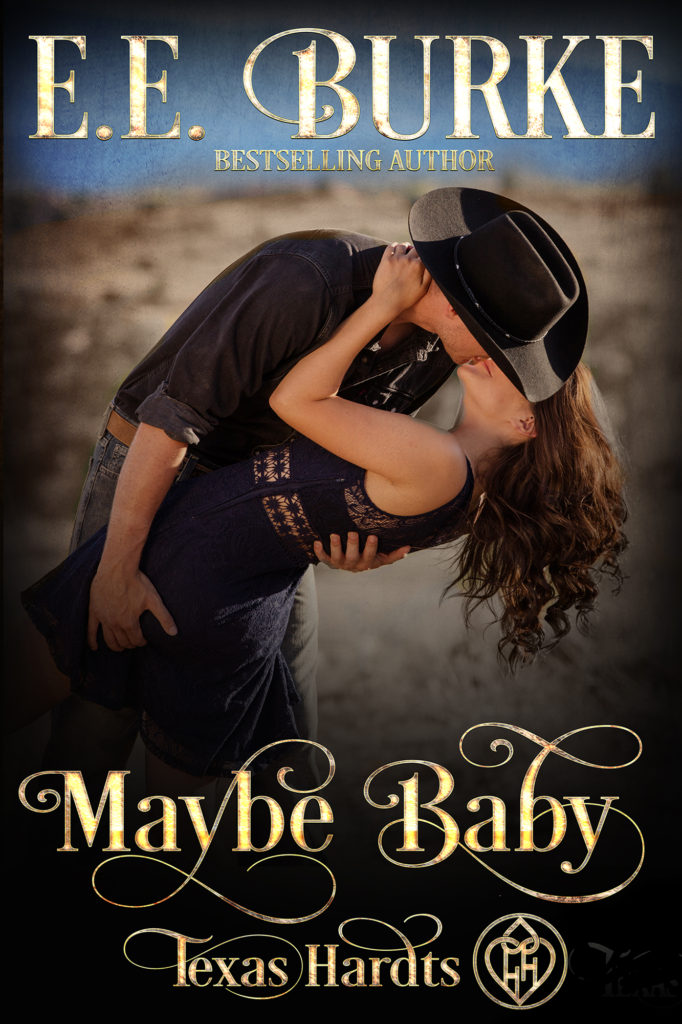 Jen Chandler can't ignore the urgent ticking of her biological clock, no matter how many hours she puts in at work. The nesting instinct has kicked in big-time, and she wants a baby. After too many failed relationships, she isn't looking for a husband. Instead, she sets out in search of a sperm donor to make her dream come true.
Logan Hardt, a laid-back cowboy who shows up at her Atlanta home one day, turns out to have the right genes, as well as a pressing need for cash. But he's seduced by more than Jen's generous offer, and the closer the time comes to say goodbye, the less willing he is to honor a contract that would require him to walk away and never look back.
Will a contract between them lead to more than a baby? Maybe.
See what early reviewers are saying…
"If you want a good, fun romance that makes you laugh until your sides hurt, this is the book for you." ~Linda Broday, NYT Bestselling author
"E.E. Burke's Maybe Baby just catapulted itself into the front runner as my favorite." ~ Amazon reviewer
"Maybe Baby fills all the spaces in our heart with a warmhearted story of two people finding love in the most unexpected ways." ~ Goodreads reviewer
I'm over-the-moon excited to see that readers are loving Logan and Jen's story. The series follows Logan and his brothers, as the Texas Hardts come together to save their family's ancestral ranch.
Pick up your copy of Maybe Baby at the following online retailers:
Amazon | iBooks | B&N | Kobo
Texas Hardts: The Origins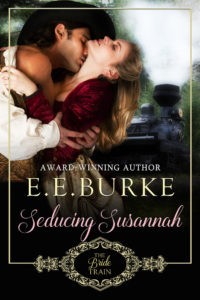 Logan Hardt, one of the main characters in Maybe Baby, is a direct descendant of two of my historical characters in The Bride Train series. Ross and Susannah Hardt. You can read their story in Seducing Susannah. Here's the blurb:
When all else fails, try seduction.
 Ross Hardt must marry a proper lady in order to reclaim his inheritance. Among the few prospects in town is a beautiful, sassy widow who has tantalized him from the day they first met–the same day she slapped his face. 
Susannah Braddock journeys west on The Bride Train in search of a good father for her young son, but on the lawless frontier few candidates meet her requirements, least of all the arrogant, demanding, unfeeling railroad agent.
 As Fate—and Ross's scheming—draws them closer, Susannah glimpses unexpected tenderness beneath Ross's harsh exterior, and she's tempted by the fiery passion that flares between them. But when a secret comes out that threatens to destroy their budding relationship, passion isn't enough. Only love can weather the oncoming storm.
SEDUCING SUSANNAH is Book 4 in The Bride Train, an exciting historical romance series inspired by true events. 
Texas Hardts: The Series 

Logan's story will introduce readers to a sizzling new contemporary romance series coming out later this year, Texas Hardts.
Meet the Texas Hardts. They've survived war, drought and pestilence to build a ranching empire. Loyalty, they understand. These cowboys have a few things to learn about love…
Do you know why it's called the Double H? Both Hardt men explain in  Seducing Susannah and Maybe Baby.
The Double H brand might give you a hint as to the meaning.
Click here to check out an excerpt from Maybe Baby.
This summer, I'm giving away five paperback copies on Goodreads. You can enter here: