NEW! Seducing Susannah, Book 4, The Bride Train

When all else fails, try seduction.  
Ross Hardt must marry a proper lady to reclaim his inheritance. Among the few prospects in town is a beautiful, sassy widow who has tantalized him from the day they first met–the same day she slapped his face.
Susannah Braddock journeyed west on The Bride Train in search of a good father for her young son, but on the lawless frontier few candidates meet her requirements, least of all the arrogant, unfeeling railroad agent.
As Fate—and Ross's scheming—draws them closer, Susannah glimpses tenderness beneath her suitor's harsh exterior, and she's tempted by the fiery passion that flares between them. But when a secret comes out that threatens to destroy their budding relationship, passion isn't enough. Only love can weather the oncoming storm.
 The Bride Train Series 
Four women answer a railroad advertisement seeking single young ladies as brides for settlers on the Western frontier. The Bride Train takes them to a land plagued by violence and unrest, a place where passion rules, and only a woman's touch can tame it into love.
Valentine's Rose, Book 1 
An English nobleman, an Irish laundress… Only in America would Fate would be foolish enough to put them together.
Start the series FREE with Valentine's Rose when you sign up for my newsletter. Or you can buy it here.
Patrick's Charm, Book 2
A disabled Union veteran down on his luck and a famous actress on the run from danger
find shelter in each other's arms, and love where they least expect it.
ON SALE FOR ONLY 99 CENTS!
Tempting Prudence,  Book 3
A spinster kidnapped to become the bride for a bootlegger finds an unexpected chance at love.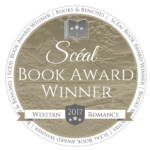 Seducing Susannah, Book 4
Ross must marry a proper lady to reclaim his inheritance. Susannah is the one he wants, but she hates him…passionately. When all else fails, try seduction.
ENTER TO WIN MY #BOOKBIRTHDAY PRIZES: A $25 AMAZON GIFT CARD OR A SIGNED COPY OF SEDUCING SUSANNAH WITH A SILVER BOOKMARK.
&nbsp