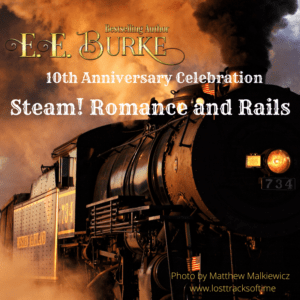 This month, I'm celebrating my 10th anniversary as an author. I've always been a history geek, so it seemed natural to combine a passion for the past with my lifelong love for romance, which is how I arrived at historical romance. The potential for subject matter is as vast as humankind, but as I thought about what most piqued my interest, I found myself drawn to a particular period in American history. Something about the story of the railroads called to me. Maybe it was the passion and excitement of that long-ago era when America expanded her boundaries as fast as men could lay track. A little booklet I picked up in a museum ignited an idea, and I started writing what became my first published novel.
Here's a blog post I did shortly after I released Her Bodyguard (Book 1 in the series Steam! Romance and Rails).
Romance, Rails and Riots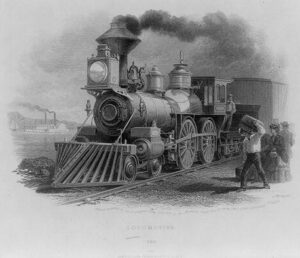 In the second half of the nineteenth century, the United States entered a time of explosive growth and expansion that has been unmatched since. The country had just emerged from a devastating war and its people needed to have faith in something. That something turned out to be what railroads represented: opportunity and hope for the future.
A hotly contested  construction race between the Missouri, Fort Scott & Gulf Railroad Company (nicknamed The Border Tier) and the Missouri, Kansas and Texas Railway (more commonly known as The Katy) encapsulates the spirit of these times and the challenges. This race turned out to be the perfect setting for the first two books in my railroad romance series.
Her Bodyguard follows the history of the Border Tier and tells the story of an unlikely romance that develops between two people caught up in the cutthroat railroad race and a violent settlers' revolt.
"If the railroad can be put through next season, we can sell lots enough to make such sinners as we are, rich as sinners ought to be." Samuel Pomeroy, Kansas Senator, 1870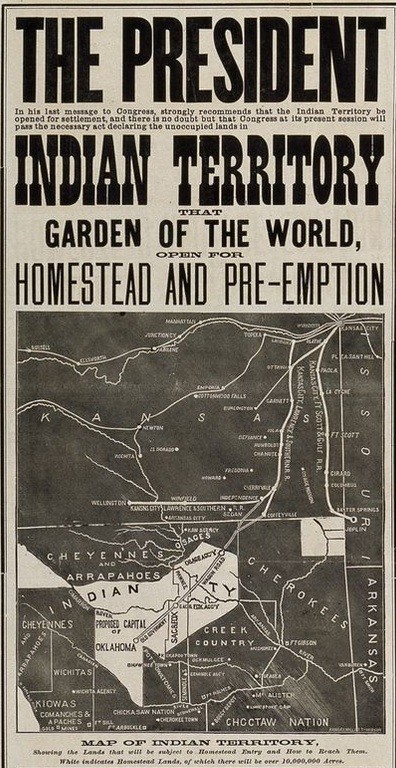 With the Cherokee Treaty of 1866, President Grant establishes a large tract of land in southern Kansas for settlement. Using political pressure, the railroads got the land cheap, less than $1 an acre. That same month, the President signs the Land Grant bill into law, giving first railroad to reach Indian Territory (modern day Oklahoma) exclusive rights to build through the sovereign nations.
The race between three contenders quickly becomes a neck-to-neck competition between the two most powerful railroads: the Southern branch of the Union Pacific started by Judge Levi Parsons and the line owned by then-president of the Chicago, Burlington & Quincy, James Joy. Both men are Eastern investors who get into the railroad business for the easy money. It turns out to be not so easy.
Since the end of the Civil War, settlers have been "squatting" on what is now railroad land. They claim Congress promised it to them and refuse to pay the railroad's asking price.
"Hang the RR man as high as Haman, without benefit of clergy" Crawford County Settlers Land League.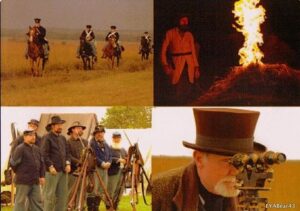 By late 1869, competitive railroads are racing toward a prescribed crossing at the border of Indian Territory.  Working for James Joy's Border Tier line, brilliant engineer Octave Chanute (who gained famed by constructing the first bridge over the Missouri River in Kansas City) draws a straight line south and builds to altitudes of 300 feet, intent on constructing a "first class" railroad.
Meanwhile, settlers in Southeastern Kansas organize into armed militias (Land Leagues) to violently oppose the railroad. Leaguers attack railroad agents, burn out rail crews, steal supplies, tents, articles and camp equipment. Federal troops are sent in to keep the peace. The settlers, predominantly Union veterans, face off with the government they'd fought for just a few years earlier.
Despite problems with angry settlers, all bets are on the Border Tier to win the race. The railroad is laying track over two miles a day, has a head start on the Katy, and more money.
"Give me the iron and the big stuff and I'll put your railroad down if I have to lay it flat on the prairie." John Scullin to Katy brass.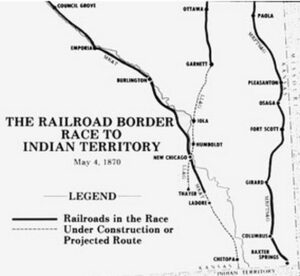 In January 1870, the stockholders of the Katy Railroad meet in Emporia. Parsons has hired a new general manager who will win the race for him. While the Border Tier builds a railroad that will last, the Katy's workers lay iron "flat on the prairie" and adjust routes to minimize bridges and curves. They focus on speed, rather than quality. Rumor has it Parsons' men are stirring up the settlers and encouraging them to riot. The Border Tier strikes back and is accused of vandalism and banditry. Both lines engage in bidding wars for workers.
"One must be prepared to pay for the victory, or not play at all" James Joy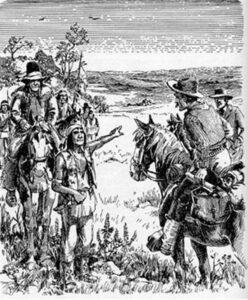 Sneaky competitors hire "fake" Indians to direct Octave Chanute to wrong border crossing, a pile of stones that mark an 1837 survey, which is few miles away from the official 1854 border. While the Border Tier celebrates, the Katy lays track to the correct borderline.
The problems with the settlers continue to plague both railroads as they dispute the results of the race.
I won't tell you how it ends, although I will say at least two people get their HEA.
Books in the Steam! Romance and Rails Series include:
HER BODYGUARD: A determined railroad investor stalked by a mysterious killer seeks protection from a wanted gunslinger, who is hiding a dangerous secret.
KATE'S OUTLAW: After a railroad heiress is abducted, one of her captors becomes her protector. On the run from danger with enemies on all sides, they discover a love as powerful as it is forbidden.
Originally part of the anthology Passion's Prize. Catch up on the stories of two other women caught up in a dangerous race for riches in Adella's Enemy by Jacqui Nelson and Eden's Sin by Jennifer Jakes.
A DANGEROUS PASSION: An inquisitive author sets out to expose a charismatic railroad baron and becomes ensnared in a deadly mystery and a dangerous passion.
FUGITIVE HEARTS: When a newly-made widow tries to cover up the truth behind her husband's violent death, her plan backfires, sending her fleeing from a hardened lawman determined to bring her to justice.