The Twelve Days of Christmas Mail-Order Brides, a historical romance series from twelve bestselling authors, continues in 2018 with THE BRIDES OF NOELLE. We'll be featuring stories set in the same fictional town of Noelle, Colorado, and following many of the characters you met and fell in love with in the Christmas stories, along with some new arrivals.
Brides of Noelle will feature brides for every season, starting with Valentine's Day. My book Jolie, A Valentine's Day Bride, and Kit Morgan's latest, Ophelia, A Valentine's Day Bride, kick off the new series. 
Can love be blind?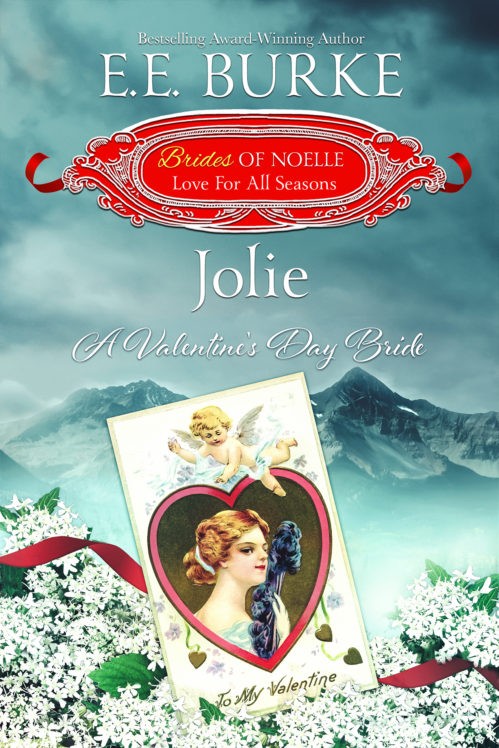 Jolie LaFemme has been a working girl at La Maison for four long years…ever since being betrayed and left penniless. She's jaded, distrustful and blind to the possibility of love. As far as she's concerned, being the madam of a popular sporting house is the best she can hope for, and nothing will convince her to give up the coveted and lucrative position.
Hank Donavan arrives in Noelle with a plan to ensure his sister's financial security, and regain his pride. He's a man in his prime, handsome by any measure, but an accident ruined his vision and his future. Now, he travels with his dog, Bear, and sells beautiful handmade Valentine cards. His big opportunity comes when he gets a chance to invest in the town's richest silver mine. There's only one catch: he has to be married first.
Who would marry a blind man with little to recommend him when there are plenty of hale and hearty men to go around?
Where is Noelle? 
Our fictional town was actually inspired by a real place: Leadville, Co. We've taken a few liberties, but for the most part, we've stayed true to the history of that area where the richest silver strike in the state was accidentally discovered! 
Does Hank have a seeing eye dog?
No, not exactly, but… After World War I, a doctor in Germany noticed the protective behavior of his dog around patients and set up some experiments, then the first recorded training occurred in England. That's not to say there weren't blind people who discovered how smart dogs were long before that. Hank, being a very smart man, connects with Bear, a very smart dog, and the two learn from each other. Yes, I'm taking liberties by having Hank "train" Bear, but I don't think it's so far off to be unbelievable. Initially, the formal schools didn't accept the idea that dogs could be trained, but eventually the dogs showed them it could be done!
What were the attitudes toward prostitutes in the Old West?
"Can't live with 'em, can't live without 'em." That pretty well sums it up. In the mid-1800s, men, primarily single, younger men, fanned out across the frontier and prostitution (the oldest profession, as they say) followed. Men wanted access to women for all kinds of reasons (not only sex, also a sense of female companionship they sorely missed). Women entered prostitution for all kinds of reasons (abandonment, abuse, to avoid starvation, for the lure of easy money, etc.). But these were Victorian times, and a woman who expected to marry was also expected to remain "pure." Men put "pure" women on pedestals. They used the services of whores, enjoyed being with them, but most would not marry one. That isn't to say it didn't happen. Some men did want to marry their painted ladies. In quite a few cases, well-off working girls or madams didn't wish to be married because it meant giving up their relative "freedom" and handing their husbands power over them. In Jolie's case, it takes a very special and unique man to convince her to leave behind her hard-won position, the only security she knows, and take a risk on love.
Purchase Jolie, or read it for free on Kindle Unlimited.
Find out more about our series by joining our special Facebook group: 
Check out my other books! www.eeburke.com/books
What do you think about romances featuring atypical heroes or heroines?
SaveSave
SaveSave