Get four bestselling romances for less than the price of a box of chocolates! 
[huge_it_video_player id="13″]

JOLIE by E.E. Burke
On sale for 99 cents this week only
Jolie LaFemme has been a working girl at La Maison for four long years…ever since being betrayed and left penniless, grieving and adrift. She's jaded, distrustful and blind to the possibility of love. As far as she's concerned, being the madam of a popular sporting house is the best she can hope for, and nothing will convince her to give up the coveted and lucrative position. 
Hank Donavan arrives in Noelle with a plan to ensure his sister's financial security, and regain his pride. He's a man in his prime, handsome by any measure, but an accident ruined his vision, and his future. Now, he travels with his dog, Bear, and sells beautiful handmade Valentine's cards. His big opportunity comes when he gets a chance to invest in the town's richest silver mine. There's only one catch: he has to be married first. 
Who would marry a blind man with little to recommend him when there are plenty of hale and hearty men to go around?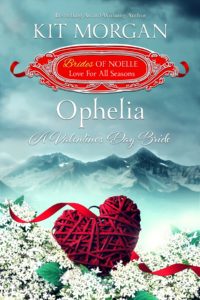 OPHELIA by Kit Morgan
On sale for 99 cents this week only!
Clint Jones comes to Noelle for one purpose and one purpose only. Get in, assess the town and get out. Then he'd report to his superiors at Wells Fargo and Company to let them know if Noelle is respectable and prosperous enough to open a branch there. What Clint finds is anything but respectable! Toss in a violet-eyed beauty who takes his breath away, a mayor and a preacher he things are consorting with the worsts sorts of evil, and the fun begins.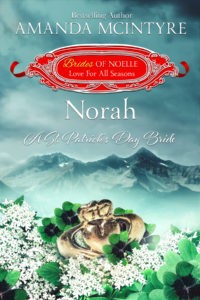 NORAH by Amanda McIntyre
On sale for 99 cents this week only!
Not proud of his seedy entanglements back East, Irish immigrant Seamus Malone is determined to create a new and better life in the western frontier. Despite attempts to reach the woman that captured his heart, his letters for the last four years have gone unanswered. 
Will a plea for help from Noelle's new matchmaker convince his estranged wife to join him in this new world, proving his love, and that he is a changed man?
Passion (and a controlling aunt) drove Norah into marriage, but when she finds her new husband dabbling in drink and dangerous liaisons, she bid him farewell, relenting to his pipe dreams of a better life, while she remained behind living in the shame of a broken marriage. When a dark truth is discovered she must now decide if the love she once felt is enough to survive a second chance?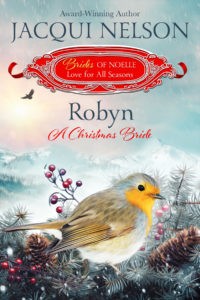 ROBYN by Jacqui Nelson
On sale for 99 cents this week only!
Raised by three free-spirited older brothers, Robyn Llewellyn has learned to fight for what she wants—and now she wants to transform her boss and best friend, Max Peregrine, into a lifelong partner. Determined to become the image of what a marriage-minded man wants, Robyn trades her trousers for a dress and heads to Max's hometown of Noelle, Colorado. But changing who she is with the help of the now happily married Brides of Noelle puts her friendship with Max at risk, and now he fears he may take her away from him forever.  
This year, my husband and I celebrate 32 years of marriage the day after Valentine's Day. We intended to get married on Valentine's Day, but it fell on a Friday that year, which wasn't good for out of town guests, so we pushed our wedding to one day later. Now we get to celebrate for two days!
I picked Valentine's Day as the setting for my story because for me it is the most romantic time of the year. I thought it fitting that Hank Donovan would sell Valentine's cards and did some research into Victorian handmade cards. They were truly works of art.
Hank happens to be blind, which makes his story all the more intriguing. When he gives one of the handmade cards to a cynical madam who considers "love" a transaction, something magical begins to happen, and two people who had nearly lost hope begin to dream again.
May you find your happily ever after,
E.E. Burke
Pick up all four delightful Brides of Noelle romances for a sweet deal, only 99 cents each. Click the names below. 
Have you read any of the Noelle books? in the Twelve Days or Brides series? If so, which character would you invite to dinner and why?