In my novel Redbird, elements from Cherokee myths are woven into the love story, which is set during a historical event in the 1870s involving the Cherokee Nation and the Katy Railroad. Read on to find out more about these fascinating legends that inspired me.
Uk-ten-a
Jake crept next to the dark side of the locomotive. Tonight, Uk-te-na didn't hiss or spew its dark breath. The smoking dragon crouched on metal rails with its nose pointed south, directly at the heart of the Tsa-la-gi nation, silent and still like a predator anticipating a kill.
Most cultures have legends about supernatural serpents. In Cherokee lore, they call this mythical creature Uk-te-na.  Described as a monstrous beast with horns, similar to a dragon, Uk-te-na is originally created at the behest of men to destroy their enemy. Instead, it wreaks havoc on the people of the earth. It makes sense, then, that Native Americans would liken locomotives to this fearsome beast.
This powerful imagery fit beautifully within the framework of my story about a Cherokee hero who sets out to stop a powerful railroad from devastating his homeland. His quest takes an unexpected turn when he abducts a railroad heiress who it seems might be the personification of a legendary goddess.
Wa-ya and the little bird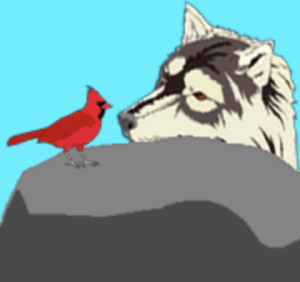 How did the cardinal get its beautiful coloring? In this Cherokee tale, Raccoon (gv-li) loves to tease Wolf (wa-ya). One day Wolf is chasing Raccoon so long he becomes exhausted. While he sleeps, Raccoon covers Wolf's eyes with mud, which hardens. After Wolf awakens, he can't get the mud off and he can't see. He begs for help, but Raccoon just runs off.
At long last, a little bird hears Wolf and she flies over. "What's the matter Brother Wolf? Can I help you?"
Wa-ya cries: "I can't open my eyes, Please help me to see again!"
"I'm just a plain little brown bird. but I will help you if I can."
"U-wo-di-ge tsi-s-qua (little brown bird), if you can help me to see again, I will take you to a magic rock that oozes red paint. We will paint your feathers red."
The little bird pecks away the mud until Wolf can see. True to his word, Wa-ya takes U-wo-di-ge tsi-s-qua to the magic rock and uses a chewed stick as a paint brush to paint right red over the little bird's plain, brown feathers. She becomes to-tsu-wa--the beautiful Red Bird.
Similarly, in the novel Redbird, the heroine Kate is instrumental in saving the hero, Jake (whose Cherokee name is Wa-ya). In turn, Jake's gift to the woman he calls Redbird is a new awareness of her beauty and strength.
The Sun and her daughter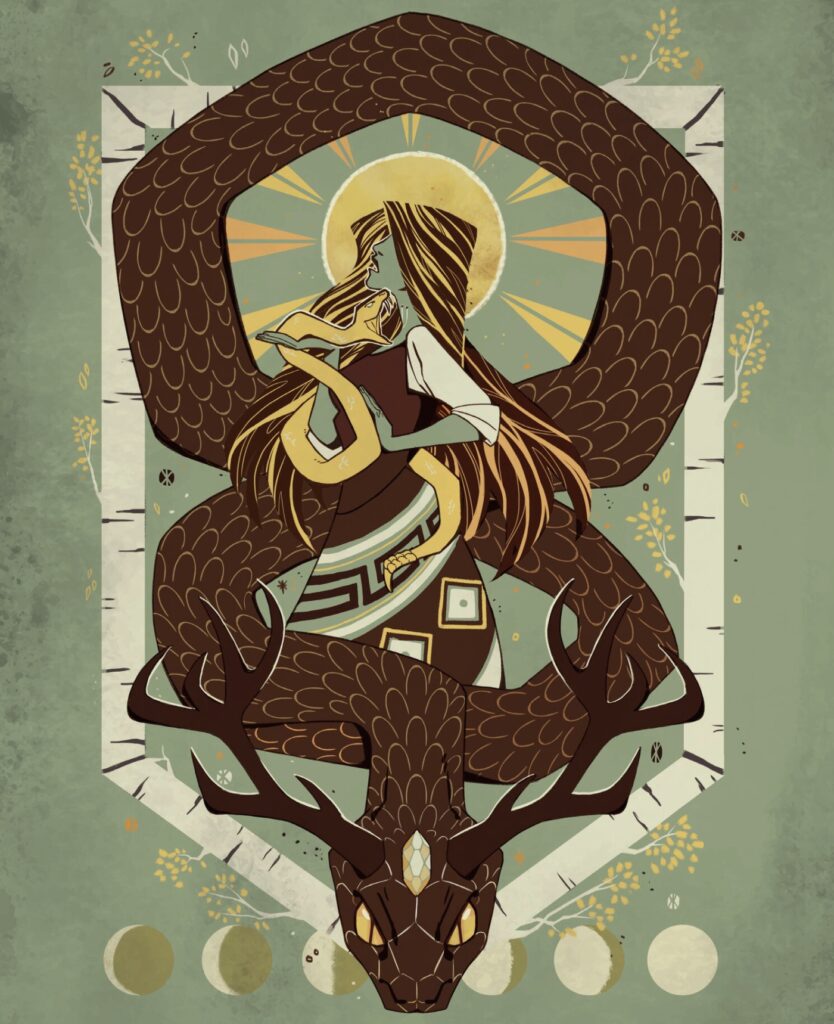 This traditional Cherokee legend contributes a core element in my love story and the hero's journey. As a boy, Jake is enthralled by the story about the Sun's daughter. He forms an image in his mind about what she might look like, and even sees her in a vision, which later directs his path in ways he could never have predicted. The original legend is rather long, so I'm going to paraphrase most of it.
The Sun lived on the other side of the sky vault, but her daughter lived in the middle of the sky, directly above the earth, and every day as the Sun was climbing along the sky arch to the west she stopped at her daughter's house for dinner. Now, the Sun hated the people on the earth, because they could never look straight at her without screwing up their faces. But the people of the earth smiled at her brother, the Moon. The Sun was jealous and decided to kill the people, so when she came to her daughter's house, she sent rays down that created a great fever and many people died.
The people went for help to the Little Men (supernatural beings), who changed two people into snakes (Copperhead and Spreading-adder), but they were unsuccessful at killing the Sun. Then the Little Men created a monster, the great Uk-te-na and the Rattlesnake. They surprised the daughter of the Sun when she came outside, thinking it was her mother who was knocking.
After the Sun finds her daughter dead, she goes away and the world is plunged into darkness. Representatives of the people go to the land of the dead to retrieve the Sun's daughter and bring her back alive, but along the way, they mistakenly let her out of a box she's being kept in and she flies off,. A moment later, they hear the song of a red bird. The daughter of the Sun can't return to her mother in her previous form, but she is brought back to life as the beautiful Redbird.
In my novel, Jake associates Kate with the Sun's beautiful daughter and nicknames her Redbird. His fascination with her allows him to lower his defenses and open his mind and heart to new possibilities.
As far as Kate is concerned, Jake is the only man who accepts her on equal terms. With him, she feels beautiful and strong. She also comes to believe she is uniquely suited to help Wa-ya and his people. In the end, she is transformed, like her namesake.
Redbird, Book 2 in the series, Steam! Romance and Rails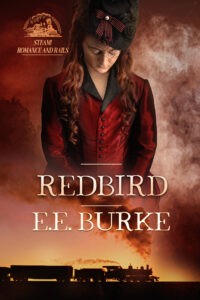 A rich, white heiress. A Cherokee outlaw. They have nothing in common except a desire for peace…and each other.
Railroad heiress Kate Parsons has spent a lifetime trying to win her father's respect. Her heart isn't in the marriage he demands for her, but she is eager to help him peacefully resolve a land dispute between his railroad and the Cherokee Nation. Instead, her life–and her future–take a sharp turn when she is abducted by outlaws.
Jake Colston longs for peace, but not at the price the railroad wants his people to pay. Rather than fight a war against the smoking dragon, he devises a scheme to stop it. But a split-second decision to abduct Kate pitches his plans into chaos and creates havoc in his heart. Like the legendary goddess Redbird, his captive is brave and quick-witted, curious and compassionate. Is she the incarnation of a vision? Or does she portend the end of his dreams?
A captivating, cross-cultural love story, which unfolds during a fast-paced race through historic events. Redbird was originally released as a novella under the title Kate's Outlaw. This new edition has been expanded into a novel with exciting new scenes and renamed after the Native American legend that inspired it. 
Have you read the series yet? If not, get started on the first book, Her Bodyguard.  Right now, if you sign up as a new subscriber to my newsletter, you'll receive a link to a free download. Sign up today!
Steam On!
E.E. Burke