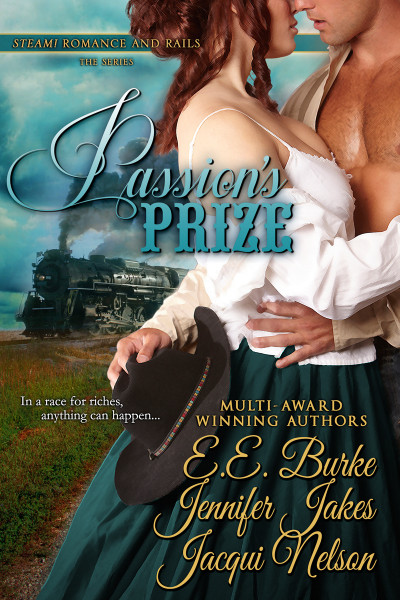 A spy, a whore and an heiress...
The lives of three women are forever altered when they clash with dangerous, but irresistible adversaries, as a cutthroat competition between two powerful railroads heats up.
About the Book
The lives of three women hinge on the outcome of a cutthroat railroad race and their ability to outwit the dangerous men pitted against them. 
Adella's Enemy by Jacqui Nelson
The race heats up as former Rebel spy Adella Willows receives her mission from a Washington senator—play havoc with the Katy and derail its bid to win the race. The senator craves wealth. Adella craves revenge against the man responsible for her brother's death. But her plans crumble into chaos when she matches wits with the railroad's foreman, a handsome Irishman torn between two desires: winning the race or winning Adella's heart.
Eden's Sin by Jennifer Jakes
Passions rise when a beautiful madam must rely on an Army major for help. Eden Gabrielli lives by three rules: Never trust the wealthy, do whatever it takes to survive, and never again believe a decent man could love a whore. But when a blackmailer threatens, she will do anything to protect her sister—even if that means deceiving the handsome and determined Major Bradford, the one man who tempts her to break her rules.
Kate's Outlaw by E.E. Burke.
Fortunes fall when the heiress is abducted by outlaws in the midst of negotiations between the railroad and the Cherokee Nation. Kate discovers the real savage isn't her Cherokee captor, who challenges her preconceptions and woos her with surprising tenderness. But time is running out for Kate and her outlaw as they flee from a killer and search for a solution to the escalating conflict. What they can't flee is a powerful attraction that keeps Jake at her side until it's too late.
Other Books in "Steam! Romance and Rails"
Disclosure of Material Connection: Some of the links in the page above are "affiliate links." This means if you click on the link and purchase the item, I will receive an affiliate commission. I am disclosing this in accordance with the Federal Trade Commission's
16 CFR, Part 255
: "Guides Concerning the Use of Endorsements and Testimonials in Advertising."